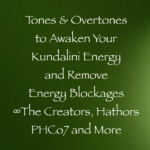 The tones and overtones offered in this download of over 11 minutes are infused with the intention to awaken your kundalini energy and remove any energy blockages you may be carrying in your chakras, body, and/or energy field. This one was a group effort, and I could feel The Creators, The Hathors, The PHCo7, and other collectives coming through to assist with the tones and overtones. You can tone along or just lay back and listen. I also recommend focusing on the base of your spine as you receive these energetic downloads through the sounds. Enjoy! <3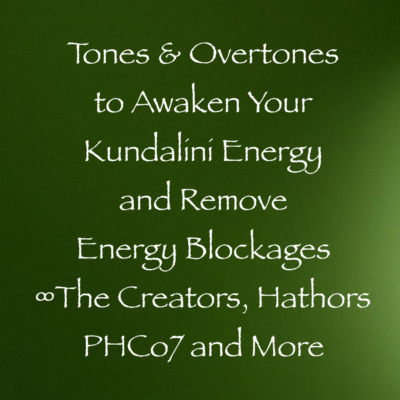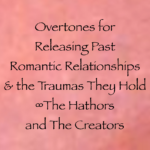 These overtones from The Hathors and The Creators are infused with the intention to help us release past romantic relationships and all the energies and traumas surrounding them. Whether you tone along or just lie back and listen, you'll receive the benefit of this 10-minute download. Tones and overtones are powerful healing devices, especially when infused with intentions. Just by listening, you'll be purging the energy from your past romantic relationships. Enjoy <3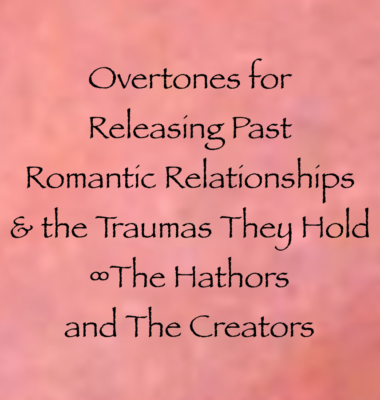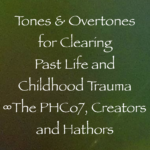 In this transmission of tones and overtones, I channeled The Pleiadian High Council of Seven, The Hathors, and The Creators. Each of the collectives infused their transmissions with the intention to clear our past life and childhood traumas. You can sit back and listen or tone along. Either way, hold your intention to clear and release these traumas. Overtones work on us multi-dimensionally. So even just one listen will have a profound effect. Enjoy! <3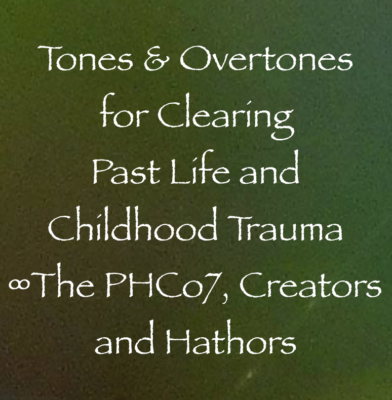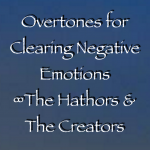 Have you ever woken up from a good (or bad) night's sleep and just felt yucky? Sometimes we're processing negative emotions for the collective, past life selves, or even this lifetime's self, but we have no idea where the emotions are coming from. Other times, it's all too clear where they're coming from. Either way, tones and overtones are a great way to clear them out of our fields. In this 10.5 minute download, The Hathors and The Creators collaborated to deliver us these overtones infused with that intention. When you listen, intend that these overtones will do just that for you and either tone along or just listen in. Toning is always transformative for me. Enjoy! <3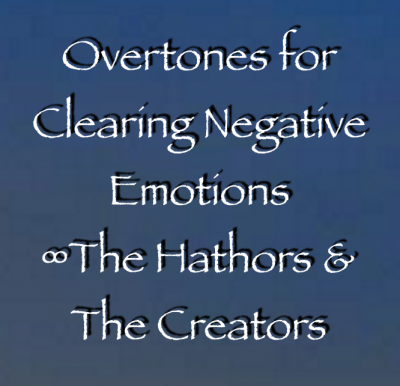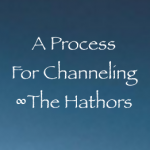 This channeling process of over 12 minutes is brought to you by The Hathors. In it, they walk us through a series of steps that culminates in their encouragement to speak your very own light language. The Hathors offer a mini-workshop on channeling in this one. It's filled with the power of their frequency and the certainty with which they teach. It was a pleasure of mine to bring it through for all of you. Enjoy! <3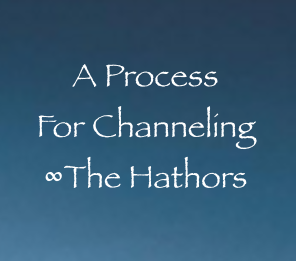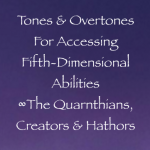 We all know about the wondrous fifth dimension and that we are hurtling towards it at a pace that is most appropriate for all. But some of us are beginning to access those abilities in the here and now. Claircognizance, Clairsentience, Clairvoyance, and Clairaudience are just a few of those abilities. Activating our light bodies, teleportation, telepathy, and so many more abilities are available to us as we begin to hold a fifth-dimensional frequency state more and more of the time. These tones and overtones are brought to you by the Quarnthians, Creators, and Hathors, and they are my favorite to date. They are infused with the intentions and the codes to help unlock those 5D abilities in all of us! Enjoy <3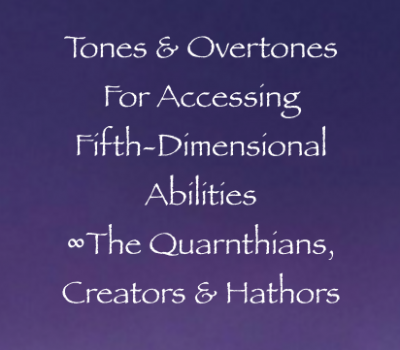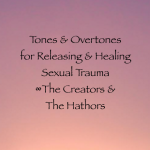 In this download from The Creators and The Hathors, they provide the tones and overtones to assist us in releasing and healing our sexual traumas from this lifetime, past lifetimes, and/or both. It's over ten minutes of tones and overtones with a brief intro from yours truly on how to best utilize the recording.
Namaste <3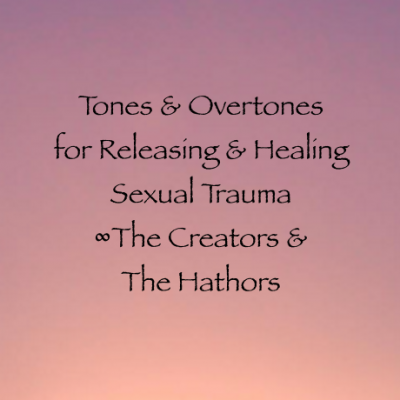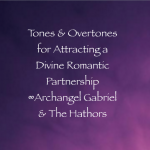 In this download of 11 and a half minutes from Archangel Gabriel and The Hathors, they commingle their Divine Feminine and Divine Masculine energies to create tones and overtones that are infused with the intention of assisting us in attracting Divine Romantic Partnership in our lives. You can tone along or just listen with your heart open as the tones and overtones wash over you. Enjoy <3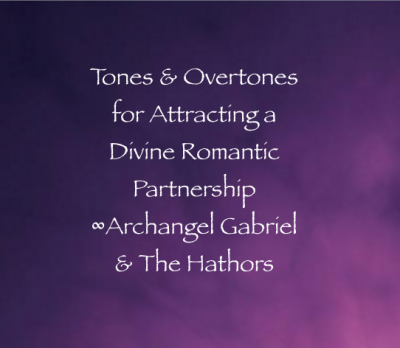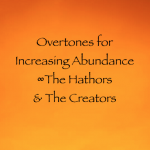 These overtones, provided by The Hathors and The Creators are infused with codes designed to help tap in to the abundance frequency that lies dormant within most of us. Remember to offer your intention that the overtones increase abundance in your life – whether you seek more money, love, recognition, joy, or opportunities. And you can sit back and focus on where that frequency of abundance exists within you, or you can tone along. Either way, enjoy the overtones! <3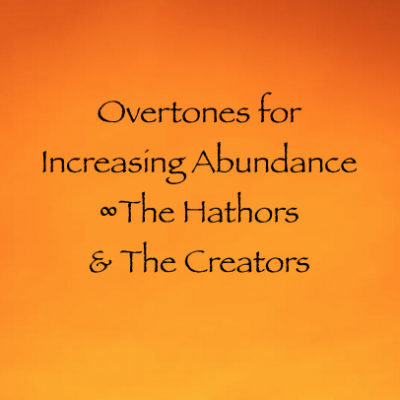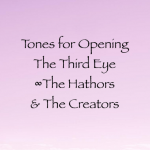 I asked The Hathors and The Creators to collaborate on this one. These tones are infused with my intention, and the intentions of my guides, to open your third eye chakra. Sit back, listen, and enjoy the feeling of the vibrations of the tones as they decalcify your pineal gland and energetically open you to more clairvoyant experiences and intuitive hits. Enjoy! <3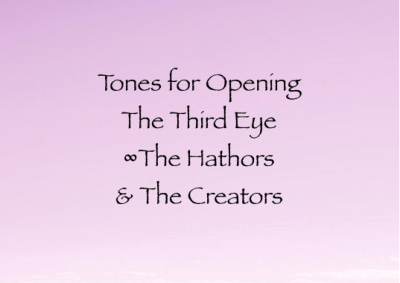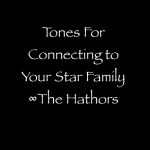 I asked The Hathors to bring through some tones to help us connect to our star families. Whether you resonate with the Pleiadians, Orions, Sirians, Antarians, Arcturians, Lyrans, Andromedans, Cassopeians, or some other star family, these tones and chants can help connect you to your brothers and sisters in the galaxy. I infused the energy of each star system listed above into the tones and sounds. This recording is over 11 minutes in length and filled with a variety of vibrations to help stimulate the awareness of which star system resonates most with you. Ready, set, connect! <3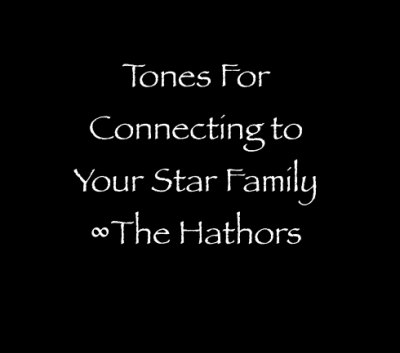 I'm now offering private, one-on-one channeling lessons from my guides. You can choose from Archangel Michael, Archangel Gabriel, The Founders, The Hathors, and The Creators. Any of them will be happy to be your channeling teachers!
Here's the feedback I received from our first student…
"Wow! That was the most amazing and exhilarating and high energy channeling class with the Creators! I am still buzzing and hearing and feeling the Pleiadians and dolphins all around me. The Creators are here too. I feel like a changed person, really, happier and lighter–its as if my happy child self has rejoined me. I am so excited about my channeling now <3 Thank you."