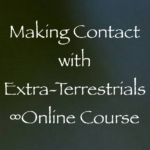 In this FOUR WEEK COURSE I'll be teaching you everything I know about connecting with our E.T. friends. I'll also be channeling The Quarnthians, Zetas, Hathors, and The Arcturian Council, The Pleiadian High Council of Seven. I'll be leading you through some exercises myself, and I'll be enlisting the help of my E.T. friends to help guide you to your own E.T. experiences, both physical and non-physical in nature.
Each week we will meet via the computer and/or phone (your choice). You'll be able to ask questions, and I'll do the answering. When I'm channeling the E.T.s, they'll be guiding you through processes, meditations, and exercises.
Week 1: June 24th at 4PM Pacific/7PM Eastern.
Week 2: July 1st at 4PM Pacific/7PM Eastern.
Week 3: July 8th at 4PM Pacific/7PM Eastern.
Week 4: July 15th at 4PM Pacific/7PM Eastern.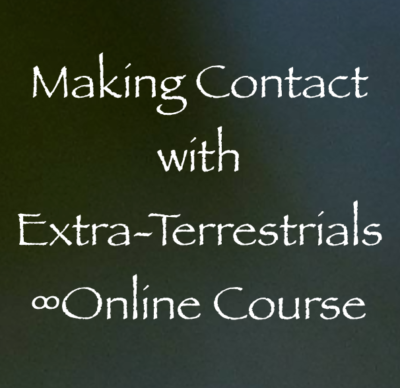 This is a 4 Week Course! Each week, you'll get two hours of class time with Ina Lukas and me. In weeks 1 and 3, Ina will channel The Alchemists, and I'll channel The Creators. You'll be able to ask any question you want to ask of The Creators and The Alchemists, and you'll hear the answers to everyone else's questions. If you cannot attend live for any of the sessions, you'll be able to email your questions in beforehand and hear the answers on the recordings.
During weeks 1 and 3, Ina will channel The Alchemists on the topic of Bringing the Fifth Dimension to You, and I will do the same with The Creators. The Creators & Alchemists will be bringing their high frequency energy transmissions to answer all the questions of the attendees in the group (even those questions that never get asked verbally). When you sit in on one of these sessions, you'll find that other people's questions are relevant to you, and questions you weren't even thinking of asking get answered.
In weeks 2 and 4, Ina and I will be teaching you how to bring the fifth dimension to you using the methods that we've used to navigate our own personal shifts.
During week 2, Ina will channel an activation by The Alchemists. These activations are extremely powerful, as they help you to shift your beliefs and anchor in new vibrations. And in week 4, she'll lead a One Command session. One Command is a manifestation tool that Ina has used to create the beautiful life she leads, and she has taught countless clients to do the same. It's a tool you'll want to use over and over again.
In week 2, I'll be teaching you how to find your vibrational signature, how to feel into your current vibration, clear what you need to clear, and finally, how to offer the vibration you prefer to create your reality with. During week 4 I will channel a meditation for the group, possibly from Yeshua or The Buddha. Then we will explore the power of using your voice to make tones and sounds that will alter your vibration and point of creation.
Join us! Four Weeks…
Week 1: Thurs, June 29th at 2PM Pacific/5PM Eastern
Week 2: Wed, July 5th at 2PM Pacific/5PM Eastern 
Week 3: Thurs, July 13th at 2PM Pacific/5PM Eastern
Week 4: Thurs, July 20th at 2PM Pacific/5PM Eastern
Enrollment will be limited to 20 individuals, so reserve your spot now.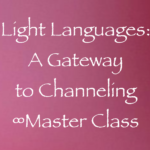 In this three week course, I'll teach you everything I know about light languages (light languages are known by some as "speaking in tongues"). You'll learn how to speak them, what they mean, and how to use them for the purposes of healing, creating, and ultimately, verbal channeling. We will all speak our light languages during the course, and you'll have the opportunity to speak for different ET races and non-physical collectives. We will also write our light languages out on paper and absorb the coded information they bring. What makes speaking light languages a gateway to channeling? It's the freedom of expression they offer. There's no right or wrong way to speak them, and they don't have to make any sense to our minds. Join me!
Week 1: May 17th at 5:00 PM Pacific/8:0PM Eastern
Week 2: May 24th at 5:00 PM Pacific/8:00PM Eastern
Week 3: May 31st at 5:00 PM Pacific/8:00PM Eastern
Testimonial from an attendee: "Thank you so much! I loved these Light Language classes. I really felt drawn to take the LL workshop, and wow, it was so freeing. I started channeling light languages easily and freely, without the burdens of my personal judgements …it just flowed so much more easily, and I am confident it was the real deal 🙂 Thanks again, and I feel the LL course helped to free up my verbal channeling confidence helped loosen and unblock my personal fears and judgements about the channeling process." -Helene, British Columbia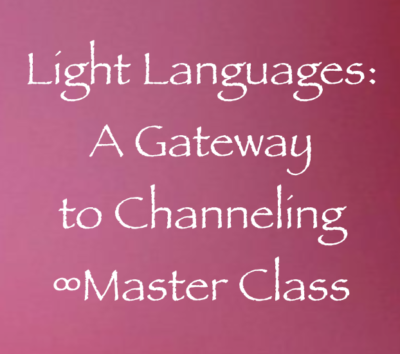 Join Maricris Dominique Dela Cruz-Scranton and I as we co-lead this course to explore the Law of Creation in depth. We'll teach you how to access and utilize the Law of Creation, master it, and manifest the life of your dreams. This six week course begins on Monday, October 24th and ends on Monday, November 28th. Class will begin at 4PM Pacific/7PM Eastern each Monday. If you cannot attend a class, or two, or any of them live, you will be able to get all the content on the recordings and ask questions via email. Each class will be one hour in length, and with each new class we'll focus on something different and give you processes, meditations, and exercises that you can use to create something really amazing during our time together. And you'll use the tools you take from this class to continue to create a magical life for years and years to come…Join us! <3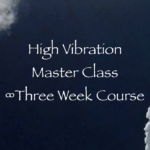 Starting May 2nd at 4:30PM Pacific/7:30PM Eastern, and for the next two Wednesdays after (May 9th and 16th)…
This three week course will be taught by me, Daniel. I've learned a LOT of tricks on how to find, hold, and raise vibrations over the almost 6 years that I've been eavesdropping while channeling my guides. I'll teach you all I've learned and applied to my life, including: how to find a vibration in your body, how to hold it, expand it out, and create your reality with it. Each class will be one hour long, and we'll utilize tools like breathing, toning, and visualizing to get our vibrations up and up for good! Join by computer or phone. I love teaching this!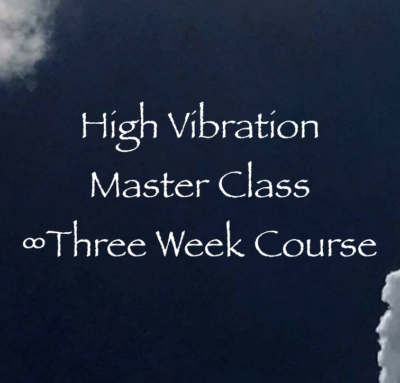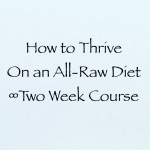 If you've ever considered "going all raw" with your diet but wasn't sure how you could make it work, this is the course for you! I've been eating all raw for over 11 years now, and I've been through a lot of different incarnations of the diet. I've gained weight (I'll tell you how NOT to do that), lost too much, and have found my happy medium. And now I want to share the knowledge I've gained with you :). Join me for this two week journey where I'll give you tips and tools to use on your raw food journey. Trust me, it's one of the best things I've ever done for myself…
First Class: Friday, October 21st at 2PM Pacific/5PM Eastern
Second Class: Friday, October 28th at 2PM Pacific/5PM Eastern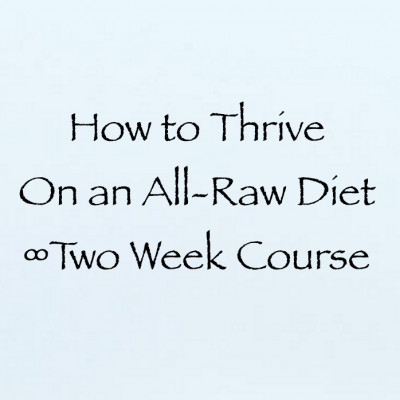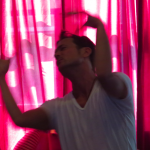 If you've already taken my Beginner's Channeling Class, and yet the Advanced Channeling Class is a little too advanced…this is the class for you! In this Intermediate Channeling Class, I'll lead you through exercises, meditations, and processes to get you into the channeling state and to bring higher-frequency beings of light and love through you…verbally. You all have beings that want to connect with you and want to come through you, and it will be my goal to get you channeling those beings by the end of the class. Each Intermediate Channeling Class will be unique!
The class will be two hours in length, and there will be a short break in between the two hour-long segments. You can join via phone or computer (your choice!). If you cannot be there live, you will still be able to do all the processes, exercises, and meditations by listening to the recording. You'll receive the recording of the entire class shortly after it's over so you can practice on your own.
The next class will be at 4:30 PM Pacific/7:30 PM Eastern on Tuesday, July 3rd, 2017. You can sign up for one class at a time or a class + a private lesson (at a discounted rate).