Description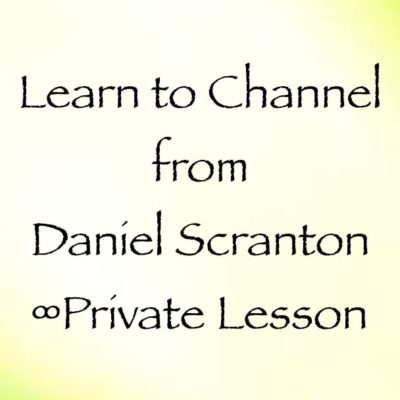 Get a Private Channeling Lesson with Daniel Scranton…or Get a Series of 4 Lessons at a Discounted Rate!
Want to learn to channel? Or do you already channel but would like to step it up a bit? This is your opportunity! I'm offering myself up as a teacher for a bargain rate. Believe me…it's been a journey for me in my channeling career, and I've learned quite a bit about how to connect with other beings in the process. Also, I've been teaching channeling since December 2013, and every time I teach, something new comes through me. I'm able to share my latest experiences and insights in each new session.
I am happy to say that teaching channeling is one of the most exciting aspects of my work! I love meeting my clients wherever they are and taking them to the next level with their channeling. It doesn't matter whether you've ever channeled before or whether you've taken any of my group channeling classes or not…you will benefit and your channeling will improve with these private lessons with me. I've seen it happen time and time again.
Please note: the current wait time for a lesson with me is around 4 months. 
"First of all, I have to say that I am thankful for the authentic work Daniel does. The channeling lesson I received tonight was very validating for what I am already experiencing and for what lies ahead.  I have been on a spiritual journey of awakening for a very long time.  I have learned much along the way, from various teachers. Daniel is at the head of the class. I say this because I have always wanted to connect with ascended masters and others for a very long time. Daniel can awaken this for anyone who has the desire." ∞Roger Goins, Shaker Heights Ohio
Thanks a lot. It was a wonderful  session! Looking forward to the next :-)!" 
"When I came across Daniel on YOUTUBE I had no idea that it was even possible to teach someone how to channel. But I knew it was something I wanted to do. With Daniel's support encouragement and guided meditation I was able to do some verbal channelling during my first lesson. It can feel intimidating to try something in new in front of someone who has been channeling for many years, but Daniel really made me feel comfortable and relaxed enough to go for it. Since having that first experience I have been able to connect with my higher self and can channel verbally and in written form and I keep making progress. I am grateful to Daniel for his openness in sharing his experience and knowledge freely and without judgment. I am feeling happy and empowered, and look forward to more spiritual expansion."  ∞Tracy, Oahu