Description
This is a 2-Hour Event Where I Will Teach All in Attendance How to Channel Their Spirit Guides, Higher Self, Angels, ETs, Ascended Masters & Other High-Frequency Beings/Collectives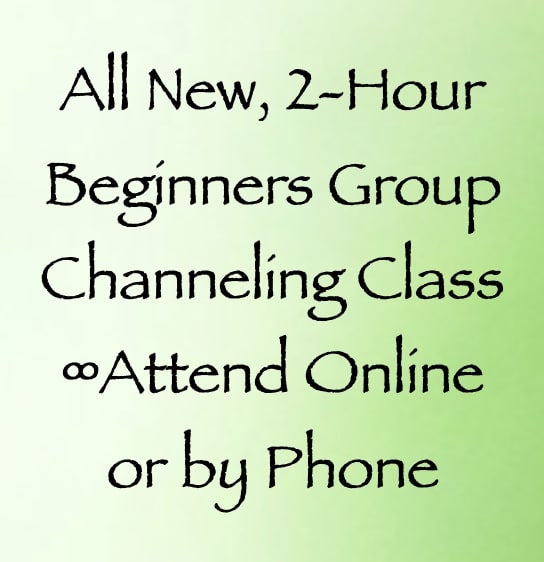 When Is the Next Beginners Group Channeling Class?
The next Beginners Group Channeling Class will be on Monday, March 1st at 12pm (noon) Pacific/3pm Eastern. If you cannot attend the class live because you'll be working, asleep, or have some other obligation, that's not a problem at all! You will receive a link to download the recording, and a replay page that will enable you to access the entire 2-hour event and listen to it at your leisure. You can even submit your questions for me regarding channeling and/or your channeling experiences before the class starts, and you will be able to hear my answers on the recording. The great thing about having a recording is that the exercises I lead the class through to get them into the channeling state will be accessible to you to play over and over again. One thing I've learned in my 10 years as a verbal channeler is that consistent practice makes perfect! Love <3
How Will You Join the next Beginners Group Channeling Class?
This class will be held on an online platform called Instant Teleseminar. After you register, you'll receive instructions on how to join by phone (cell or landline) or computer, tablet, or even smartphone. You can call in and ask questions, or just listen in. You can also use the link provided to type in your questions for me by computer, tablet, or smartphone, and I will answer them as long as your questions are far-reaching enough to assist all in attendance. Joy! <3
What Will be Covered in this Beginners Group Channeling Class & What Will You Receive from Attending?
This Beginners Group Channeling class is a tremendous opportunity to ask me questions about your channeling and channeling in general, and you will also benefit from hearing about other people's experiences with their channeling. During the course of the two-hour class session, I will also be leading the group through guided meditations/processes/exercises to get you into the channeling state and hopefully even get you speaking by the end of the time we will have together. At the very least, I'm sure you will feel something that will get you in the mode of channeling on a regular basis, and you can do the processes/exercises/meditations over and over again until those exercises I take you through in the class do start producing a word, a tone, a sound, or a light language. And once you begin channeling/allowing something to flow through you, you won't want to stop! It will get easier and easier as you continue on in your channeling journey. I promise. Ease <3