Description
This Channeling Mega Course with Daniel is a 9 Class, 18-Hour Journey of Channeling Higher-Dimensional Beings of Love & Light
How Is this Mega Course Different from Daniel's Other Channeling Classes & Courses?
This Learn to Channel Mega Course will begin on May 23rd, 2023 and end on January 20th, 2024 – a total of nine class sessions. We will meet for one 2-hour class each month, and in between each class, you will be given homework, and we will convene via a private Facebook group that Daniel will set up. You can meet your classmates in the group and set up times to practice together, talk about your experiences, and share the tips and tricks you've been learning about in the course. It will also be a place where Daniel will provide answers to questions and support in between class sessions. The other difference between this mega course and the other classes and courses is that there will be a gradual increase in the level of difficulty from one class to the next. Daniel will feel into where the entire class is and what is needed for the attendees from month to month, and there will be so many opportunities to ask questions and get immediate answers about your channeling journey.
This course will not be eligible for any discount codes, and this course will also not be offered for sale as a recording after the course concludes (like all of my other channeling classes are). So if you want to partake in this mega course, it will be something you'll need to sign up for and attend live or via the recordings/replay pages that will be sent out via email to the attendees after each class.
How Will the Class Meet Each Month?
Daniel will send you a link to the new Zoom meeting each month. You will be able to join by landline, cell phone, tablet, or computer, and you'll be able to ask live questions no matter which method you use for connecting to the classes. The days of the month and times for each class will vary from month to month, so you will get a reminder email from Daniel with the new Zoom info the day before each class session. If you cannot attend any or all of the class sessions live, that's really not a problem, as you can listen to each recording, which you'll receive via email several hours after each class ends. It's also possible to ask questions in between each class session via email or the online form. Those questions will be read and answered by Daniel, and you'll be able to listen to his answers on the recording. Also, if you pay using paypal, you can make 4 installment payments. 
Are You Ready for this Mega Course?
In my opinion, after having taught hundreds of people how to channel since the end of 2013, which is when I started teaching channeling, anyone and everyone who wants to learn how to channel is going to benefit from attending this course. Here's why. This course will help those who are brand new to channeling get their feet wet and feel out the nuances of the channeling experience, and the newbies will have plenty of time in between each of the monthly class sessions to practice what they've learned. Those who have had some experience with channeling, but who want to go further with it, will also benefit, as Daniel gives a multitude of processes, exercises, meditations, and insights on channeling that will help everyone, no matter what skill level they're at, to go further with their channeling abilities. There will be countless opportunities to channel beings and collectives from different star systems and dimensions, and so even if you've been channeling e.t.s or archangels, perhaps you've never channeled a Faerie or ascended master. This course will take you through all the steps necessary to channel all beings of light and love who are here in service. Joy! <3
Testimonial from a Former Student: "I started channeling the day after our first class, and have been practicing regularly since then, getting some really good information. I found a partner via the facebook group, with whom I practice regularly. We keep each other on track, give feedback and challenge each other with new ideas.
I have also taken Daniel's concepts and run with them to channel energies from nature, around my home. That has been eye-opening and affirming, I feel very supported — though I have always BEEN supported, now I have a more conscious connection and can FEEL it. Learning to channel has added depth to my life, and I'm enjoying it greatly."
∞H.C.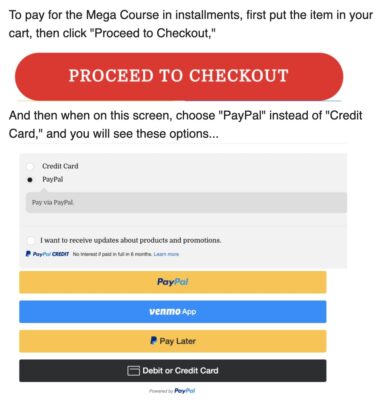 Choose "Pay Later," and you can pay for the next Learn to Channel Mega Course in monthly installments.
Here are all the Class Days, Dates & Times…
Tuesday, May 23rd, 2023 at 1PM Pacific/4PM Eastern
Tuesday, June 20th, 2023 at 1PM Pacific/4PM Eastern
Saturday, July 29th, 2023 at 1PM Pacific/4PM Eastern
Saturday, August 26th, 2023 at 1PM Pacific/4PM Eastern
Thursday, September 21st, 2023 at 1PM Pacific/4PM Eastern
Monday, October 23rd, 2023 at 1PM Pacific/4PM Eastern
Thursday, November 23rd, 2023 at 12PM Pacific/3PM Eastern
Wednesday, December 20th, 2023 at 12PM Pacific/3PM Eastern
Saturday, January 20th, 2024 at 12PM Pacific/3PM Eastern
Testimonial from former course attendee: "I am currently enrolled in Daniel's Learn to Channel Mega Course. At this point, we're about 2/3 into the course. Daniel is knowledgeable, capable and knows how to teach such an esoteric topic as channeling. He gives opportunities to ask questions (and gives answers), he leads exercises, and encourages practice between classes with other members of the group. I highly recommend Daniel Scranton's Learn to Channel Mega Course." ∞Elaine