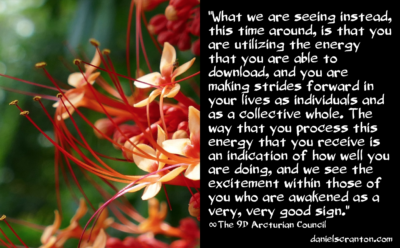 "Greetings. We are the Arcturian Council. We are pleased to connect with all of you.
We have an extensive inventory of experiences from our past that gives us the ability to sense when something big is happening for all of you there on planet Earth, and we have that sense now. We recognize that the energies that you have been receiving are impacting your lives in a much more positive way than they have in the past. When you receive an enormous influx of energy, oftentimes what you get is a great deal of triggered emotions coming up.
But what we are seeing instead, this time around, is that you are utilizing the energy that you are able to download, and you are making strides forward in your lives as individuals and as a collective whole. The way that you process this energy that you receive is an indication of how well you are doing, and we see the excitement within those of you who are awakened as a very, very good sign.
You are starting to really get that you are here to create something brand new, something that has never been experienced before, and it is sinking in that the way to create those experiences is through the utilization of these high frequency energies that are coming to you from all angles. What this means is that you can do less and accomplish more. It means that you can allow things to come to you. You can relax and receive, and you can let go of the trying and struggling that has been such a part of the human experience for so long.
The beautiful thing for us about all of this is that we see you realizing that you have become that which you've been seeking to become, and you're acknowledging yourselves more as the creators of this entire experience. You're looking within more for the power that you have once given away, and you are seeing yourselves as empowered by these energies that you and you alone have summoned. And that is a tremendous leap forward.
We are the Arcturian Council, and we have enjoyed connecting with you."
Get a Private Session with The Arcturian Council (or any of the other beings I channel) for 50% Off. Enter Discount Code LOVE at Checkout
Love these quotes? Make a donation here