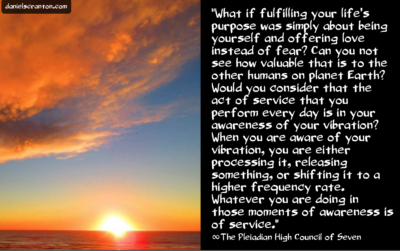 "We are the Pleiadian High Council of Seven, and we are pleased to offer you our words of wisdom.
It is very important for you to recognize that you are absolutely fulfilling your life's purpose. If you question whether or not you are fulfilling your life's purpose, then let us assure you that you are. Simply wanting your life to have a purpose shows you the good intentions that you have. Wanting a purpose is wanting to be of service. It is wanting to contribute to the good of all humankind.
By now you have reached a point in your life where you have made certain decisions about what it is you want to do and what it is you don't want to do, but what it is that you will do is likely something that has not yet been created. It is not among the list of occupations that you often see offered. Therefore, when you don't know what to do and you don't know what your life's purpose is, recognize that is your way of demonstrating to yourself that there is nothing for you to do at this time.
What if fulfilling your life's purpose was simply about being yourself and offering love instead of fear? Can you not see how valuable that is to the other humans on planet Earth? Would you consider that the act of service that you perform every day is in your awareness of your vibration? When you are aware of your vibration, you are either processing it, releasing something, or shifting it to a higher frequency rate. Whatever you are doing in those moments of awareness is of service.
And in so doing, you put yourselves in a place where you can co-create a better world, a better world for all beings. And in that better world exists a purpose that will inspire you to act. If nothing is inspiring you to act, then just become aware of your vibration. Choose love over fear, and demonstrate to yourselves what a powerful purpose that can be.
We are the Pleiadian High Council of Seven, and we are very fond of all of you. That is all."
Bonus Channeling from Maricris Dominique Dela Cruz
Get Some Clarity – Book a Private Session
Show Your Gratitude – Make a Donation