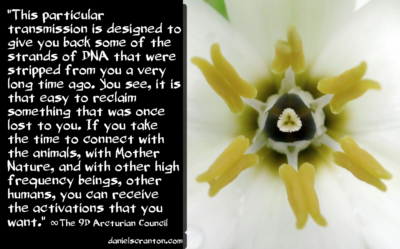 "Greetings. We are the Arcturian Council. We are pleased to connect with all of you.
We have been on the lookout for some of you who have achieved a certain level of mastery in your lives, because those of you who are leading the evolution of consciousness movement are significant and your numbers tell us what the rest of humanity is ready for. Beings from all across the galaxy, like ourselves, are constantly taking the temperature of humanity to see what you can handle, energetically, and what information is going to serve you the most.
There are enough masters present on planet Earth today to warrant giving you the transmission that we are giving you right now. We want you to recognize that you don't always receive the transmissions in the way that you think you are going to receive them. Sometimes our transmissions come through the animals, and sometimes they come through other humans. Oftentimes, it is the trees and the other plant life on your world. They act as receptors, and when you connect with them in nature, you receive our transmissions.
This particular transmission is designed to give you back some of the strands of DNA that were stripped from you a very long time ago. You see, it is that easy to reclaim something that was once lost to you. If you take the time to connect with the animals, with Mother Nature, and with other high frequency beings, other humans, you can receive the activations that you want.
This is why disconnecting from your electronics is so important. This is why meditation is also important, because when you are meditating, you are disconnecting from those devices, and you are opening yourself up to higher frequency beings who are not human. With the number of awakened masters on your world right now, the time is right for receiving these DNA upgrades. So please, for your own benefit, make sure you do.
We are the Arcturian Council, and we have enjoyed connecting with you."
Get a Private Session with The Arcturian Council (or any of the other beings I channel) for 50% Off. Enter Discount Code LOVE at Checkout
Love these quotes? Make a donation here