Description
This is a 9 Class/18 Hour Mega Course on Abundance, Money, Wealth & Prosperity
This Abundance, Money, Wealth & Prosperity Mega Course starts on Thursday, April 14th, 2022 at 1PM Pacific/4PM Eastern Time. Each of the nine classes in the Mega Course is two hours in length, and that means the entire course is 18 hours in length. Each class will meet on Zoom, so everyone who's camera is turned on can be both seen and heard, and you can see and hear your classmates…and me. There's about a month in between each class so you can practice what you learn and put it to good use. I will also set up a private Facebook group so that we can all meet in between classes to discuss how the processes given in the course are working or not working for the class members.
There will be several abundance activations, meditations, processes, and exercises taught throughout the 18 hours of class time we'll have together. I'm so looking forward to meeting and working with all of you who feel inspired to sign up for this mega course!
Each month and in each class we'll explore a different aspect of the world of financial abundance, and I'll also be channeling the beings & collectives I work with for the class members in each class session.  And I, Daniel, will be answering your questions about the topic, which is something I do know something about. I've had more success in the past couple of years than I ever thought I could doing something I love, something that wasn't originally supporting even me, never mind a whole family of people, and while living on Maui no less. So I teach from experience, as I've had all the ups and downs to have been everywhere on the spectrum, which means I've been wherever you are and can help you find the vibration of abundance from the vibration of lack, or even just the vibration of less abundance than what you ultimately want to experience.
If you cannot attend one or more of the classes live, you will be able to attend them by the video and audio recordings. Attending in that way will be almost as good as being there live. And if you have questions you want to ask, but cannot attend live to ask them, you can email the question or questions to me before the next class, and I'll read it and answer it. Then you can listen to the answer on the recording.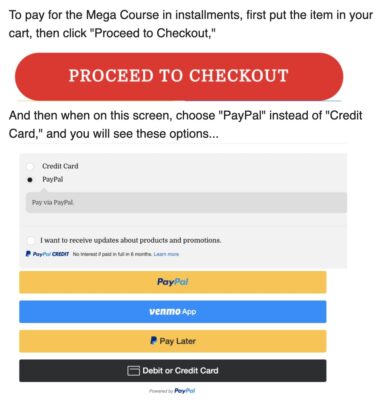 Choose "Pay Later," and you can pay for the next Abundance, Money, Wealth & Prosperity Mega Course in monthly installments.
Let's face it. Abundance means more freedom, more opportunities for joy and changing the world, and more of the creature comforts we all deserve for being here and taking on the journey of ascension with and for the rest of humanity. Join me!
Class Days & Times:
Thursday, April 14th, 2022 at 1PM Pacific/4PM Eastern Time
Thursday, May 12th, 2022 at 1PM Pacific/4PM Eastern Time
Thursday, June 9th, 2022 at 1PM Pacific/4PM Eastern Time
Thursday, July 21st, 2022 at 1PM Pacific/4PM Eastern Time
Thursday, August 11th, 2022 at 1PM Pacific/4PM Eastern Time
Thursday, September 15th, 2022 at 1PM Pacific/4PM Eastern Time
Thursday, October 13th, 2022 at 1PM Pacific/4PM Eastern Time
Thursday, November 17th, 2022 at 12PM Pacific/3PM Eastern Time
Thursday, December 14th, 2022 at 12PM Pacific/3PM Eastern Time