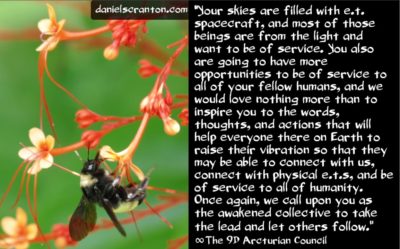 Get Pulled Up & In by Our Tractor Beam ∞The 9D Arcturian Council, Channeled by Daniel Scranton
"Greetings. We are the Arcturian Council. We are pleased to connect with all of you.
We have been seeking to connect with more of you who are so very interested in connecting with us, having physical extra-terrestrial contact, and being of service. We are reaching out to all of you who have shown interest because we know that the timing is right for deeper connection, contact, and for all of you to exercise that ability that you have to serve all of humanity.
Now is the perfect time for more of you to step up and be the influencers that we know you can be, and so we shine more light upon you, and like a tractor beam that light is meant to pull you in, to raise you up to a dimensional frequency that can make you more aware of us, the other physical extra-terrestrial beings that you want to connect with, and you also can receive more inspiration on how to be of service when you are in that higher vibrational frequency.
And so, when it comes to answering the call of our light and love, we would say the best thing that you can do is to state your intention to be in that higher vibrational state, and then clear your minds of all of your thoughts so that you can naturally and easily raise your vibration. All of this that you are doing there on Earth can be so much easier, and it gets easier when you take the weight of the world off of your shoulders, and you allow yourselves to be helped, to be pulled up by the tractor beam, figuratively and literally in the case of physical extra-terrestrial contact.
Your skies are filled with e.t. spacecraft, and most of those beings are from the light and want to be of service. You also are going to have more opportunities to be of service to all of your fellow humans, and we would love nothing more than to inspire you to the words, thoughts, and actions that will help everyone there on Earth to raise their vibration so that they may be able to connect with us, connect with physical e.t.s, and be of service to all of humanity. Once again, we call upon you as the awakened collective to take the lead and let others follow.
We are the Arcturian Council, and we have enjoyed connecting with you."
Get a Private Session with The Arcturian Council (or any of the other beings I channel) for 50% Off. Enter Discount Code LOVE at Checkout. Discount code is also good for channeling lessons and ALL recordings
Watch Me Channel This Transmission on YouTube
Intuitive Sound, Hands-On/Reiki & Light Language Healing Academy ∞3 Week Course…Register Here
NEW – Get Personalized Mantras for your Unique Intention from any of the Beings/Collectives I Channel
Purchase my NEW paperback and/or ebook, Ascension: The Shift to the Fifth Dimension, Volume 2 (by The Arcturian Council) here
Get a Personalized Mantra from The Arcturian Council, or any of the other beings I channel here
Get Exclusive Video Content on My Patreon page
Love these quotes? Make a donation here