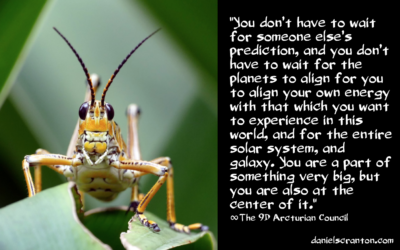 "Greetings. We are the Arcturian Council. We are pleased to connect with all of you.
We have been excited for all of you for quite some time, and we have noticed that you all have been getting excited. You've been getting excited because you feel yourselves getting closer to some very big changes in your world. We want to remind all of you that in spite of the shifts that occur in your solar system with the other planets, and the moon, none of that is as powerful as you all are as individuals and as a collective.
Don't look for confirmation for your excitement with a full moon, a super moon, a blood moon, or an eclipse. Don't look for where Venus is relative to any other planet to affirm what you know at the very core of your being-ness. You are the ones making the changes, and you can always find yourself jumping to another timeline, a better timeline. You can always find yourself creating a new reality and then living that reality.
You don't have to wait for someone else's prediction, and you don't have to wait for the planets to align for you to align your own energy with that which you want to experience in this world, and for the entire solar system, and galaxy. You are a part of something very big, but you are also at the center of it.
Because there are so many different energies from all across the galaxy, and even the universe, there on planet Earth, you are at the heart of this shift in consciousness. And the excitement that you feel is warranted, but you also get to create the journey that you want to be on. You don't have to wait for something big to happen outside of you to create something big inside of you and for you and the rest of humanity.
Practice exercising the power that you feel within you. Practice using that power because you are on the verge of releasing so many limitations, and now is the time to hone your skills as conscious creators.
We are the Arcturian Council, and we have enjoyed connecting with you."
Get a Private Session with The Arcturian Council (or any of the other beings I channel) for 50% Off. Enter Discount Code LOVE at Checkout
Love these quotes? Make a donation here