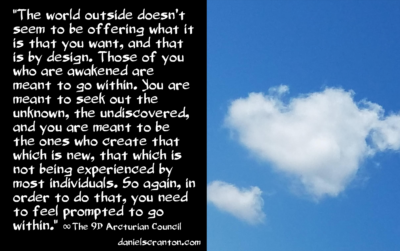 "Greetings. We are the Arcturian Council. We are pleased to connect with all of you.
It is the ideal time for all of you to be considering where you would like to be in your lives. There is so much available to you now that there hasn't been previously, but you need to be clear about what you want. And being clear about what you want has become a challenge for those of you who feel that you are simply waiting for the shift to complete.
The world outside doesn't seem to be offering what it is that you want, and that is by design. Those of you who are awakened are meant to go within. You are meant to seek out the unknown, the undiscovered, and you are meant to be the ones who create that which is new, that which is not being experienced by most individuals. So again, in order to do that, you need to feel prompted to go within.
And that prompting to go within sometimes comes from the feeling that there is nothing in your world today that is calling you. You've already done it all. Maybe not in this lifetime, but in all of your previous lifetimes put together, plus this lifetime, you have done it all. That's why it is time to create something new. That's why you need to be the dreamers. You need to be the ones with the big imaginations.
And as you dream big, you feel big. There is so much for you to feel now, even if there is less calling you into action at this time. And the only way for you to access all of those big feelings is to go within, feel around, breathe into your heart center. Breathe in the higher frequency energies. Give yourselves access to that which is of a higher frequency, that which is coming from the higher realms, and that which wants very much to play with you, to co-create with you.
It's all right there waiting for you to access it, and that means putting away the distractions, going within, and accessing that which has never been before, but you're not going find it out there. You're going to find it within you.
We are the Arcturian Council, and we have enjoyed connecting with you."
Love these quotes? Make a donation here