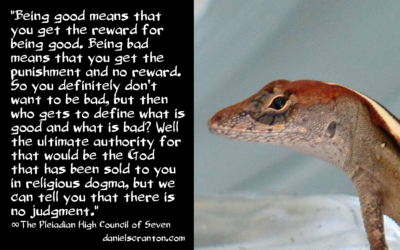 "We are the Pleiadian High Council of Seven, and we are pleased to offer you our words of wisdom.
If you are starting out with the premise that says, 'Only those who are good get to have a good life,' then you are going to look for ways that you can prove yourselves as 'good.' This is something that has been sold to you by religion, and also by governments, parents, teachers, and anyone else who has ever assumed an authority figure role in your life.
Being good means that you get the reward for being good. Being bad means that you get the punishment and no reward. So you definitely don't want to be bad, but then who gets to define what is good and what is bad? Well the ultimate authority for that would be the God that has been sold to you in religious dogma, but we can tell you that there is no judgment and that there is no list of rights and wrongs and dos and don'ts.
Now you certainly do have karma, but karma is not punishment. And there is no Being that is deciding that the good shall be rewarded and the bad shall be punished. And therefore, you don't need to worry about that. All you need to do is check in with yourself and determine for yourself whether you are expanding or contracting.
If you are thinking about doing something, and you feel that contraction, that does not mean you are considering doing something that is ultimately wrong. It may be wrong in the eyes of some. It may be that what you are considering is not going to get you what you want. It may be that the timing is not right.
But if you are looking for a set of rules to live your life by, we would say that you must determine for yourself what your own rules are and then you must allow yourself to change those rules, bend those rules, and break those rules when appropriate.
You are all making this up as you go, and you are all becoming more as you do. So the you that you are today is not the same you that you were five years ago, or even five minutes ago. Therefore, you must check in with yourselves to determine whether something is right or wrong for you in any particular moment, and you must let everyone else decide for themselves as well if you ever truly want to live happily ever after.
We are the Pleiadian High Council of Seven, and we are very fond of all of you. That is all."
Get Some Clarity – Book a Private Session
Show Your Gratitude – Make a Donation