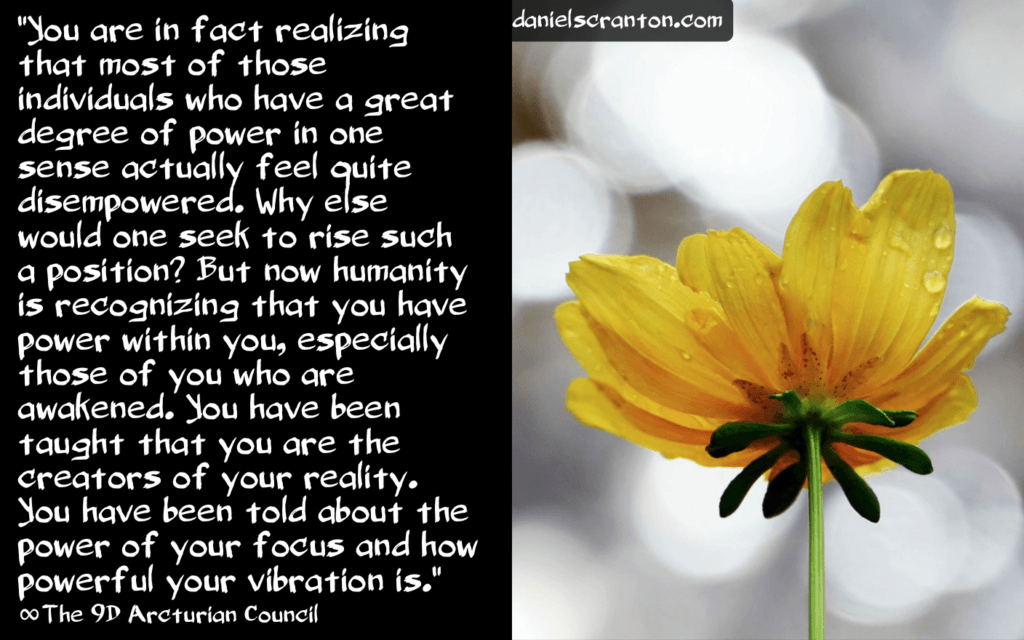 Inner Power ∞The 9th Dimensional Arcturian Council
"Greetings. We are the Arcturian Council. We are pleased to connect with all of you.
We are placing a great deal of our attention on the way in which all of you are choosing to reveal to yourselves how powerful you are. The reason why we are giving this the majority of our attention is because we want to use that same approach to help empower the rest of humanity. You all are looking within more for your power, and we are noticing where you are finding that power.
You are in fact very powerful beings who have been tricked into believing that you are almost completely powerless, especially when you don't have a lot of money,power, or influence. Now, the power we were referring to in that last sentence was the kind you get from being a king, a queen, a president, a prime minister,or the head of a corporation. That is traditionally how you have seen individuals displaying power, and that time is coming to an end.
You are in fact realizing that most of those individuals who have a great degree of power in one sense actually feel quite disempowered. Why else would one seek to rise such a position? But now humanity is recognizing that you have power within you, especially those of you who are awakened. You have been taught that you are the creators of your reality. You have been told about the power of your focus and how powerful your vibration is.
So now we see more and more people, just in the past week, tuning in to that inner power. We see massive amounts of awakening to the truth that your vibration gives you the ability to create what you want. We also see more of you jumping timelines consciously than we have ever seen before. You all are deciding one by one to take back your power, and we could not be more joyous to witness it.Everything that you do now helps to inform us as to how we can reach the rest of humanity, how we can convince them that they are also in fact very powerful beings.
We are the Arcturian Council, and we have enjoyed connecting with you."
Get a Private Session with The Arcturian Council (or any of the other beings I channel) for 50% Off. Enter Discount Code LOVE at Checkout
Purchase The Arcturian Council's book, Ascension: TheShift to the Fifth Dimension, on amazon here
Listen to the audio here: m.youtube.com/danscranton
Love these quotes? Make a donation here