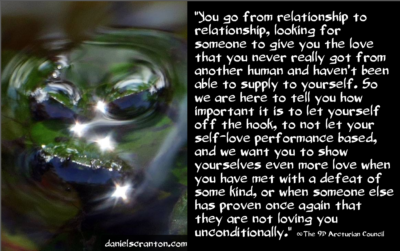 "Greetings. We are the Arcturian Council. We are pleased to connect with all of you.
We have a perspective that we would like to share with you on what we see as the continuation of some programming you picked up when you were very young on this planet in this lifetime. We see you looking for reasons to love yourselves. We see you attempting to earn your own love through something that you would accomplish or become, even from the way that you look.
We are noticing that this conditional love got started in childhood for most of you when you learned very quickly what would please your parents, and your teachers, and even your friends. You also learned what would get you in trouble or not please the other people in your life. And most of you could feel the withholding of love during those times when you disappointed someone important in your life.
Now, as adults, most of you continue to run that programming. Most humans have not found a way to love themselves unconditionally. Instead, you work very hard to try to earn your own love, and then you get into a romantic relationship, and you expect the other person to love you unconditionally, even though you have not found the ability to do that for yourself.
So you go from relationship to relationship, looking for someone to give you the love that you never really got from another human and haven't been able to supply to yourself. So we are here to tell you how important it is to let yourself off the hook, to not let your self-love be performance based, and we want you to show yourselves even more love when you have met with a defeat of some kind, or when someone else has proven once again that they are not loving you unconditionally.
That is when you need your own love to come forth from within you. You need to access it, you need to feel, and you need to give it to yourselves freely, without hesitation, without condition, and no matter what anyone else says or does to you. In fact, if you're being mistreated by others, you need to give yourselves more love and more compassion. It makes perfect sense, if you think about it. Who better to love you than the one who knows your entire story?
We are the Arcturian Council, and we have enjoyed connecting with you."
https://danielscranton.com
Purchase The Arcturian Council's book, Ascension: The Shift to the Fifth Dimension, on amazon here
Love these quotes? Make a donation here