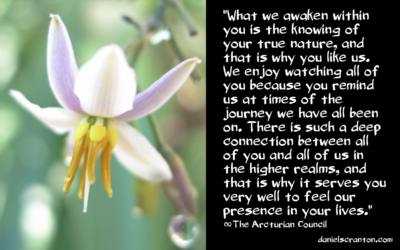 "Greetings. We are the Arcturian Council. We are pleased to connect with all of you.
It is beautiful to be a part of your evolution in consciousness. We are so excited to participate in this process. You are the ones who are determining how you go about evolving and expanding. We are just here to help. When we send you transmissions, upgrades, and downloads, we are doing so at the behest of your oversouls.
We are working with humanity, but you are doing all of the heavy lifting. And it is the information that you are sending back to your oversouls that is determining what help you get and how it comes. So please do not give us too much credit. We want very much for all of you to awaken within you what you already know.
We are reminding you that you are creator beings, that you are Source Energy, and unconditional love. And it sounds very nice when you hear it from us, but it would be even better for all of you if you could admit to yourselves who you really are at least three times a day. You need constant reminders because of the other messages that are out there in the world, telling you that you are small, fragile, and mortal beings.
What we awaken within you is the knowing of your true nature, and that is why you like us. We enjoy watching all of you because you remind us at times of the journey we have all been on. There is such a deep connection between all of you and all of us in the higher realms, and that is why it serves you very well to feel our presence in your lives, rather than just taking in the information we provide through this particular channel.
We will always be a part of your journey, and you will always be very dear and special as far as we are concerned.
We are the Arcturian Council, and we have enjoyed connecting with you."
Get a 90-Minute Session with Maricris Dominique Dela Cruz-Scranton at a HUGE Discount
Love these quotes? Make a donation here