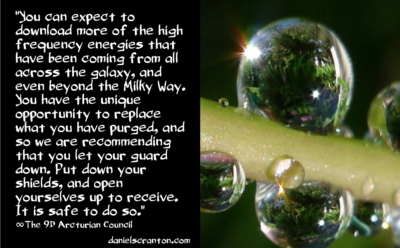 Purging Lower Frequency Energies ∞The 9th Dimensional Arcturian Council
"Greetings. We are the Arcturian Council. We are pleased to connect with all of you.
We have been observing you and waiting for the perfect moment to give you a bit of good news that will assist you in keeping your feeling of hope alive. In the recent months on your planet, there has been a tremendous uptick in the releasing of lower frequency entities, emotions, thought forms, and other energies, and all of the aforementioned released energies have been in a sort of limbo state where they cannot affect humanity.
They have not quite returned to Source, but they also have not been allowed back into the human collective consciousness. So you haven't just been moving negative energies around. You've been purging them.
And now they are in a place where they can have their own process of evolution without attaching themselves to any of you. You see, nothing is ever truly destroyed in this universe, no matter how ugly or distasteful it is to experience. There is always value to everything in existence, and these energies will find their way.
But this good news for all of you means that you can expect to download more of the high frequency energies that have been coming from all across the galaxy, and even beyond the Milky Way. You have the unique opportunity to replace what you have purged, and so we are recommending that you let your guard down. Put down your shields, and open yourselves up to receive. It is safe to do so.
And with that expectation that you are receiving higher frequency energy and information, you can rest assured that only higher frequency energies can come to you. We are guaranteeing that, and we are excited to see how many of you open yourselves up to receive and the effects that all of those downloads will have on the human collective consciousness.
We are the Arcturian Council, and we have enjoyed connecting with you."
https://danielscranton.com
Purchase The Arcturian Council's book, Ascension: The Shift to the Fifth Dimension, on amazon here
Love these quotes? Make a donation here