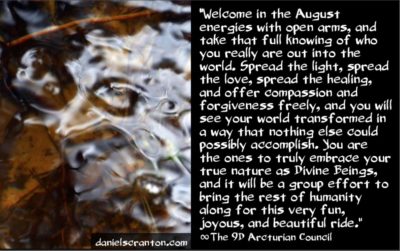 The August Energies from Arcturus, Pleiades & Sirius ∞The 9D Arcturian Council, Channeled by Daniel Scranton
"Greetings. We are the Arcturian Council. We are pleased to connect with all of you.
We are very pleased and excited to share with you what we believe the month of August will be all about there on planet Earth. We have been working with a Pleiadian collective and a Sirian collective to put together a package of energies that will work quite nicely with the other energies that you have coming in for the month of August. It is our intention to make this upcoming month be all about you finding your core within. This is the month of humankind recognizing the Divine that is always present within each and every one of you.
We really want to hammer home the truth that you all are Source Energy Beings, and that you have access to All That Is when you focus inwardly, when you give your full and undivided attention to the unconditional love that exists at your core, at your heart-center. If you are going to lead humanity as the awakened collective, then you have to be the ones who hold the Christ Consciousness within you. You have to be the ones to demonstrate to the rest of humankind what is possible when you truly know yourselves as Divine Beings of Light and Love.
What we see there on Earth is far too much waiting around for something to occur that will rescue humanity from yourselves. Only humanity can truly rescue humanity. There are, of course, beings and collectives like ourselves who are doing everything in our power to help you awaken as a collective, to guide you back into yourselves, and to remind you of how powerful you are. But there are far too many humans out there telling you that you aren't as powerful as some cabal group and that you have to wait for some kind of solar flash to come and rescue all of you.
It's time to stop pinning all of your hopes on one politician saving the day, or even a group of well-meaning individuals defeating the bad guys. What humanity needs now, and what this upcoming month is giving you the opportunity to recognize, is that Divinity activated within as many of you who are willing to go out there on a limb in the same way the one known as Yeshua once did. Remind everyone that they are Source, that they are Divine, that they are creating all of this as an illusion so that they can wake up from the dream and become the powerful beings of light they truly are.
Welcome in the August energies with open arms, and take that full knowing of who you really are out into the world. Spread the light, spread the love, spread the healing, and offer compassion and forgiveness freely, and you will see your world transformed in a way that nothing else could possibly accomplish. You are the ones to truly embrace your true nature as Divine Beings, and it will be a group effort to bring the rest of humanity along for this very fun, joyous, and beautiful ride.
We are the Arcturian Council, and we have enjoyed connecting with you."
Get a Private Session with The Arcturian Council (or any of the other beings I channel) for 50% Off. Enter Discount Code LOVE at Checkout. Discount code is also good for channeling lessons and ALL recordings
Watch Me Channel This Transmission on YouTube
STARTS TODAY – Intuitive Sound, Hands-On/Reiki & Light Language Healing Academy ∞3 Week Course…Register Here
NEW – Get a Personal Message from Your Spirit Guides
Purchase my NEW paperback and/or ebook, Ascension: The Shift to the Fifth Dimension, Volume 2 (by The Arcturian Council) here
NEW Master Course – Accessing Your Spiritual Gifts & Starting a Spiritual Business Master Course – Get it Here
Get Exclusive Video Content on My Patreon page
Love these quotes? Make a donation here