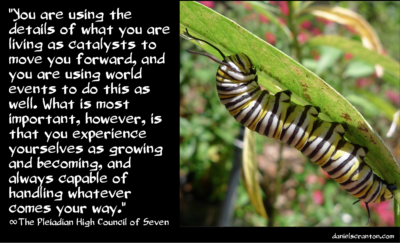 "We are the Pleiadian High Council of Seven, and we are pleased to offer you our words of wisdom.
Taking the process into consideration will give you a better view of the bigger picture. When you only see the small details that are a part of the process, it can get tempting to stay fixated on those details. You can find yourself stressing out about something very small, something that isolated from the process and the bigger picture could quite easily give you cause for concern.
So we are here to remind you that the bigger picture involves your personal evolution, the evolution of an entire species, and the ascension of that species, along with a planet. So it is a very big picture indeed, and wherever you are in your process, you are likely going to run in to some familiar territory, some familiar feelings, and some unwanted circumstances in your lives.
The key for all of you when you come across any or all of these things is to remember that this is a process of ascension, and it is a very big picture. So it is best for you to not give too much of your attention to the details that you are living, especially if those details are concerning, or downright scary. Instead, we suggest that you pull back and sense the bigger picture. Sense your expansion.
Know that you are expanding because of what you are experiencing in your life. You are not expanding in spite of it. You are expanding because of it, because of what it triggers within you, because of what it shakes loose and draws to the surface. And when you can remember the importance of processing and feeling whatever it is that comes up, you will eventually find that you can relax, that you can pull back from the details, and know that all is well.
You are using the details of what you are living as catalysts to move you forward, and you are using world events to do this as well. What is most important, however, is that you experience yourselves as growing and becoming, and always capable of handling whatever comes your way. And as you calmly approach the details of your life, you find that they aren't so scary, they aren't even that concerning.
We are the Pleiadian High Council of Seven, and we are very fond of all of you. That is all."
Get Some Clarity – Book a Private Session
Show Your Gratitude – Make a Donation