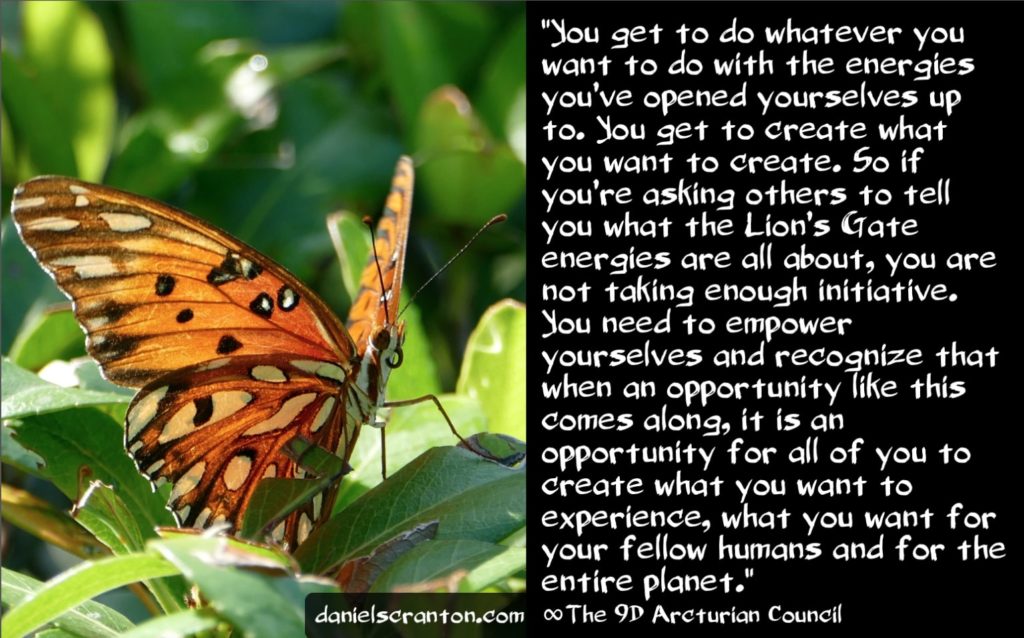 The Lion's Gate Portal Energies ∞The 9D Arcturian Council, Channeled by Daniel Scranton
"Greetings. We are the Arcturian Council. We are pleased to connect with all of you.
We are very excited to see all of you aligning your chakras and opening up to receive the energetic transmissions coming at this time of the Lion's Gate Portal. You all are such wonderful vessels for these energies, and it is as if you have been practicing for these bigger moments in the calendar year, when all of you are aware of the alignment of energies. You have done so beautifully well with all of the energies leading up to this most intense period of the Lion's Gate.
You have demonstrated your readiness to handle more. Now, the exciting part comes because you get to do whatever you want to do with the energies you've opened yourselves up to. You get to create what you want to create. So if you're asking others to tell you what the Lion's Gate energies are all about, you are not taking enough initiative. You need to empower yourselves and recognize that when an opportunity like this comes along, it is an opportunity for all of you to create what you want to experience, what you want for your fellow humans and for the entire planet.
This is a time when you can do more than your share of the receiving, because certainly it is a small segment of the population that is even aware of these energies and the alignments that are upon you. We recommend keeping yourselves fully hydrated and grounded, making sure that you are getting enough rest and relaxation, and make sure that you are anchoring these energies as well. Don't just run them through your physical bodies. Run them down into your Mother Earth, where she can spread them out and make them available to those who are not as open and aware of what is going on at this time.
You may have already felt the intensity of the energies. You may still be reeling from the last dose that you received, and so, take that into consideration. More is not always better. Sometimes you need to let what you have already received sink in a bit more. The energies will, of course, continue to come in, and the next round will be a bit weaker but still very potent. So we advise that you pace yourselves and that you make the most of this beautiful experience. It is a wonderful time for co-creation as well. Talk to each other about what you want to create, because you most certainly can, and you most certainly will.
We are the Arcturian Council, and we have enjoyed connecting with you."
Purchase my NEW book on amazon, or the ebook from me – Channeled Wisdom from Higher Dimensional Beings, Volume 2 here
Watch the Video Here – I'm in It!
Love these quotes? Make a donation here