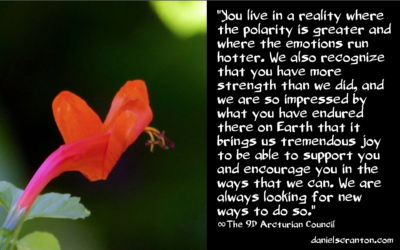 "Greetings. We are the Arcturian Council. We are pleased to connect with all of you.
We are the best possible cheerleaders for all of you. We know that at times what you need more than anything is encouragement. You need to know that there is more for you, and you need support in getting to where you are going. Now, the reason we say we are perfect for this role is that we have ascended. We ascended to the fifth dimension, and then the sixth, and then the seventh, and so on, and we know how challenging this experience can be.
We are very pleased to be a part of your ascension experience as we cheer you on from the non-physical. We can remember what it was like to be in that fourth dimension, so eager to move into the fifth, and there were beings who helped us at that time. We also recognize that there are parts of your experience that we did not have to face in ours.
You live in a reality where the polarity is greater and where the emotions run hotter. We also recognize that you have more strength than we did, and we are so impressed by what you have endured there on Earth that it brings us tremendous joy to be able to support you and encourage you in the ways that we can. We are always looking for new ways to do so.
In this transmission, we just want to assure you that it will all be worth it, and as much as you want to get to the fifth dimension, and to have all of those experiences that you want to have as quickly as possible, the journey itself is the true experience. It is what you signed up for. It is what you knew you were ready for, and it is the most delicious experience that you can have in a physical body.
We are the Arcturian Council, and we have enjoyed connecting with you."
https://danielscranton.com
Purchase The Arcturian Council's book, Ascension: The Shift to the Fifth Dimension, on amazon here
Love these quotes? Make a donation here