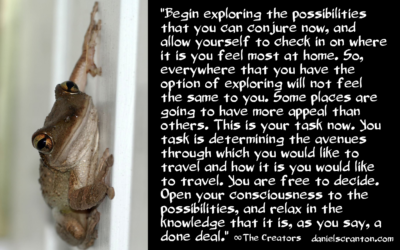 "For now, let us give you a sample of what it is you are moving towards. You are moving towards a Universe where all possibilities will be able to be previewed by you. You are going to find that you will have such freedom and so many choices, that at times, you will feel overwhelmed. There will be a sense of impact that you are having on your environment. And you will take into consideration what living your particular choices will do to the experiences of others. You will have that full knowledge of your impact.
This is a wonderful thing because you are having an impact, of course, but you do not always see it, you do not always feel it, you cannot always perceive it. And with full knowledge of your impact, you will be able to make more informed decisions. It will be a world that is supported by the energy that you put forth into it. You will find that others are in support of you, and you will be in support of them, and there will always be harmony from the consciousness that you will share, that you will be able to tap into.
You will also find that life will become much easier. You will have less need for taking steps in order to get to where you want to go. You will be able to go more directly, with fewer steps. And you can choose which steps you want to experience and which you would rather skip. So it is to your benefit now to simply take this information in. We want you to expect life to get easier, and we want you to know that it is inevitable now that you will find yourselves living as we have described.
What you can do in the meantime, while you are still working out some of your third dimensional experiences, is you can feel the satisfaction in the knowledge that what you are living now is creating a better tomorrow for everyone. It is never the case that what you are living and what you are experiencing, and the trials and tribulations that you are facing, are all for naught. They have impact and that impact is felt throughout the Universe.
Begin exploring the possibilities that you can conjure now, and allow yourself to check in on where it is you feel most at home. So, everywhere that you have the option of exploring will not feel the same to you. Some places are going to have more appeal than others. This is your task now. You task is determining the avenues through which you would like to travel and how it is you would like to travel. You are free to decide. Open your consciousness to the possibilities, and relax in the knowledge that it is, as you say, a done deal."
Get a Private Session with The Arcturian Council (or any of the other beings I channel) for 50% Off. Enter Discount Code LOVE at Checkout
Purchase The Arcturian Council's book, Ascension: The Shift to the Fifth Dimension, on amazon here
Love these quotes? Make a donation here