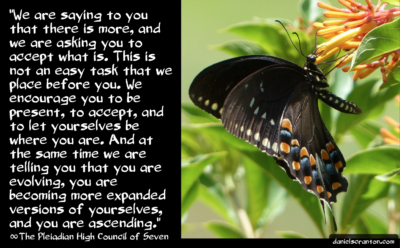 "We are the Pleiadian High Council of Seven, and we are pleased to offer you our words of wisdom.
We are saying to you that there is more, and we are asking you to accept what is. This is not an easy task that we place before you. We encourage you to be present, to accept, and to let yourselves be where you are. And at the same time we are telling you that you are evolving, you are becoming more expanded versions of yourselves, and you are ascending, so there is much for you to look forward to.
What we recommend is that you don't discount how far you've already come, that you don't ignore the beauty that is available to you in the present, and that you trust in the natural unfolding of events. In other words, it can be quite comforting to know that things are getting better, that life will continue to evolve on planet Earth, and that you are becoming the more expanded version of yourself that we have promised you you are becoming.
It can be comforting because there is plenty for you to look at and scratch your heads, wondering, 'How did we get here?' You are giving yourselves the opportunity now to take one last look at the third-dimensional way of interpreting reality. And all that we are asking is that you not judge it as being wrong. All that we are asking is that you look for ways to appreciate and enjoy the present moment as it is.
When you do, you can usher in the new with a sense of calm, a sense of trust, and a knowing that you are moving in the right direction. So we want to give you that comfort, but you must accept it. You must believe that everything is all right as it is and that life on planet Earth is going to get easier, is going to get more fun, and is going to expand to include more of your friends.
Your friends from outside of the solar system are coming to join you in your appreciation of life on planet Earth. They are not coming to save you from what is wrong. So when you fully embrace the world as it is, your lives as they are, and everything about yourselves that you can perceive, that is when the game will become so much more enjoyable, and that is when your friends can come play with you out in the open.
We are the Pleiadian High Council of Seven, and we are very fond of all of you. That is all."
Get Some Clarity – Book a Private Session
Show Your Gratitude – Make a Donation