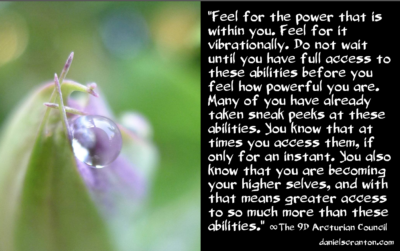 "Greetings. We are the Arcturian Council. We are pleased to connect with all of you.
You have awakened within you the abilities that are associated with the fifth dimension, but you do not know how to access them yet. It is like buying a new technological gadget that you've never seen before and not having any instructions available to you. So as you feel for the abilities within you, please recognize that your acknowledgement of them is the first step in gaining full access.
You won't be able access these abilities by lamenting the fact that you haven't accessed them yet. That is counterproductive. So what you want to do is focus. You want to focus on how these fifth dimensional abilities feel as you contemplate them. We are talking about telekinesis, telepathy, and teleportation, specifically. There are others as well that you will become aware of as you continue on in your journeys.
Feel for the power that is within you. Feel for it vibrationally. Do not wait until you have full access to these abilities before you feel how powerful you are. Many of you have already taken sneak peeks at these abilities. You know that at times you access them, if only for an instant. You also know that you are becoming your higher selves, and with that means greater access to so much more than these abilities.
We recommend that you don't get fixated on them or on any one of them. Instead we want you to continue to feel for your power and feel for the consciousness and the vibration of your higher self. Your higher self has the instruction manual. When you act, speak, and think as your higher self would, you bring yourself into harmony with that which you most desire. And in so doing, you help others gain access to their higher self and to their fifth dimensional abilities.
You are about to have a lot more fun than you've been having.
We are the Arcturian Council, and we have enjoyed connecting with you."
Get a Private Session with The Arcturian Council (or any of the other beings I channel) for 50% Off. Enter Discount Code LOVE at Checkout
Get Two Private Sessions with Maricris Dominique Dela Cruz-Scranton for 67% Off
Love these quotes? Make a donation here