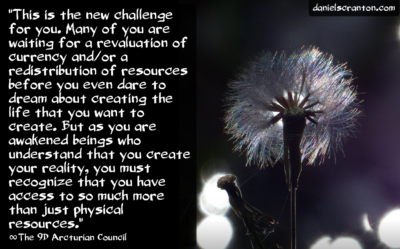 "Greetings. We are the Arcturian Council. We are pleased to connect with all of you.
You have brought yourselves to a point in your evolution where you can take what you are given and do so much more with it. You are no longer dependent upon resources coming from outside of you in order to get to where you want to go. You have a direct connection to the part of yourselves that is most creative. Therefore, no matter what your resources are right now, you can get to where you want to go and you can live the life you want to live.
This is the new challenge for you. Many of you are waiting for a revaluation of currency and/or a redistribution of resources before you even dare to dream about creating the life that you want to create. But as you are awakened beings who understand that you create your reality, you must recognize that you have access to so much more than just physical resources.
When you take into account that everything in your world, every physical object is a symbol, and nothing more, then you can grant yourselves access to the keys to the kingdom. The feeling that you want to have is the key, and when you realize this, you also free yourself up from whatever the conditions are of your current life.
Here is what we suggest. Put yourself in a comfortable and relaxed position, at least once a day. Then, take into consideration, something that you want to be living in your life. Feel the vibration of that which you want to be living, and then open your heart to access the stream of Source Energy that comes to you from your heart center. Use that energy to create the experience you want to be feeling.
Let yourself have the experience now. Don't wait. Don't even wait for what you have created to come to you before you start living it, experientially, because you have so much more access now than you ever have before to that creative energy of Source.
We are the Arcturian Council, and we have enjoyed connecting with you."
Get a Private Session with The Arcturian Council at 50% Off – Use Discount Code: LOVE
Attend a Soulshop in February on Wealth Consciousness with Maricris Dominique Dela Cruz-Scranton
Love these quotes? Make a donation here