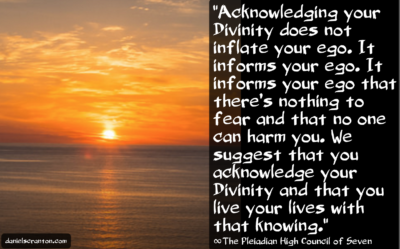 "We are the Pleiadian High Council of Seven, and we are pleased to offer you our words of wisdom.
If you have any doubt whatsoever of your own Divinity, then you are certainly going to doubt the Divinity of other beings, whether they be human, animal, or extra-terrestrial. But once you recognize your own Divinity, and you know the truth of that Divinity without a doubt, that is when you will begin to treat other beings with reverence.
And once you recognize your own Divinity, you will also not fear anyone else. Do you know what prevents you from worry and fear? It is the knowing that comes with that certainty that you are Divine Beings of Love and Light. As a Divine Being of Love and Light, you have the ability to create whatever experience you want. And when you can create whatever experience you want, then you have no need to fear that someone else is going to come along and create your reality for you.
Some of you fear yourselves. You fear your own power. You fear what you might do if you were to access your true nature. But one who knows him or herself as Divine, as truly Divine, has no need for that type of abusive power. You have no need for control of any other when you step into the knowing of your own power, which comes from that full acknowledgement of your Divinity.
Acknowledging your Divinity does not inflate your ego. It informs your ego. It informs your ego that there's nothing to fear and that no one can harm you. We suggest that you acknowledge your Divinity and that you live your lives with that knowing.
If you can access the truth of who you really are as Infinite Beings of Love and Light, then you can live the lives that you have always dreamt of and so can all of your fellow co-creators in this beautiful universe. Acknowledging the Divinity in all forms of life is not disempowering. It is merely a statement of truth, and the truth shall set you all free.
We are the Pleiadian High Council of Seven, and we are very fond of all of you. That is all."
Get Some Clarity – Book a Private Session
Spread Your Abundance Around – Make a Donation