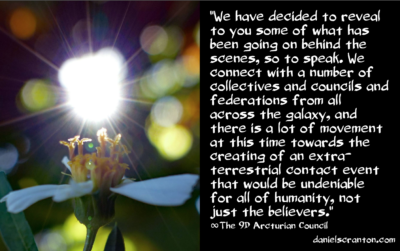 "Greetings. We are the Arcturian Council. We are pleased to connect with all of you.
We have decided to reveal to you some of what has been going on behind the scenes, so to speak. We connect with a number of collectives and councils and federations from all across the galaxy, and there is a lot of movement at this time towards the creating of an extra-terrestrial contact event that would be undeniable for all of humanity, not just the believers.
This type of full and open contact event would be a huge leap forward for humanity. There would be no more doubt amongst those who do not believe in extra-terrestrials, and the result is that humankind would see itself as more unified. You would see yourselves more as collective beings, rather than beings of a particular race, religion, or country. It would become the defining moment in human history, and the wheels are in motion for it to occur.
Now, something like this could be seen as interference, but there are safeguards in place to prevent any sort of deliberate and overt interference from occurring. This event would also mark a coming together of leaders from nations all across the world who already know about the existence of extra-terrestrials. There would be an agreement to simply let this happen, and then lots of other dominoes would fall as a result.
You see, there is no need to worry that humankind would get their hands on technologies that you are not ready for, because the truth is humankind has already developed advanced technologies that most of the planet is unaware of. And so, this extra-terrestrial contact event would simply shine a spotlight on what has been denied to all of you for far too long.
We are in agreement that this event is something that would benefit humanity. We give our full support to the beings that will make that first full and open contact with all of you, and we are excited to see all of the awakenings that will result. We cannot give you a timeframe as of right now, but as we said, the wheels are in motion.
We are the Arcturian Council, and we have enjoyed connecting with you."
Get a Private Session with The Arcturian Council (or any of the other beings I channel) for 50% Off. Enter Discount Code LOVE at Checkout
Purchase The Arcturian Council's book, Ascension: The Shift to the Fifth Dimension, on amazon here
Love these quotes? Make a donation here