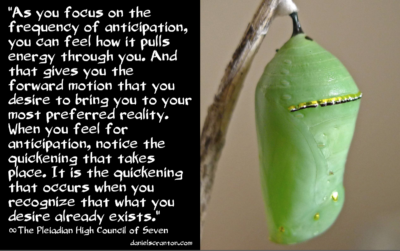 "We are the Pleiadian High Council of Seven, and we are pleased to offer you our words of wisdom.
As the anticipation grows within you, the energy from that anticipation collects a momentum, and the momentum is what carries you through to the timeline that contains your desire. Anticipation is hope coupled with desire, and with a sprinkling of knowing and certainty. Your anticipation is a strong force within you, and it is a powerful compass that can take you to precisely where you want to go.
Now, anticipating that which you desire to experience is a form of prayer, but it is a different type of prayer than the one you are accustomed to thinking about. As you anticipate, you put energy towards something, you project your energy out. And that energy is then used to create what it is that you anticipate.
We have been talking here about anticipating what is wanted, of course. It is also quite possible for you to anticipate what is not wanted, and the mechanics are almost identical, only you are fearing rather than hoping. So anticipation can be utilized to bring you what you desire, and it can be utilized to create the experience that you fear.
As you focus on the frequency of anticipation, you can feel how it pulls energy through you. And that gives you the forward motion that you desire to bring you to your most preferred reality. When you feel for anticipation, notice the quickening that takes place. It is the quickening that occurs when you recognize that what you desire already exists.
You cannot help but move closer and closer to your desired experience, because it is as inevitable as your expansion. And while you don't anticipate your expansion, it occurs nonetheless. It is also a force, but it is one that you are so accustomed to by now that you can no longer detect it.
We are the Pleiadian High Council of Seven, and we are very fond of all of you. That is all."
Get Some Clarity – Book a Private Session
Show Your Gratitude – Make a Donation