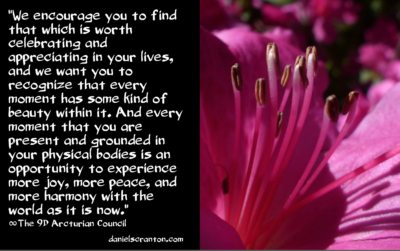 "Greetings. We are the Arcturian Council. We are pleased to connect with all of you.
You have the beautiful opportunity in every moment that you are alive to appreciate something about what you are experiencing. You are having an experience of polarity, and there will always be the side of the spectrum that is pleasing to you and the side of the spectrum that is not so pleasing at all. So it is up to you to decide for yourselves how you want to experience life.
It is up to you to determine which end of the spectrum you want to be on. When you are focusing on what does not please you, or what downright disgusts you, you are always going to be able to find more. When you listen instead to your heart, you will notice that there is always more beauty, always more love, always more opportunity for laughter. Laughter gives you relief from the other side of the spectrum.
You have that ability to stand in a moment where things have gone horribly wrong and make light of the situation. Think about that expression for a moment – make light of the situation. You have the ability to bring more light to every situation and to focus on the light that is within.
Every possible moment that you take that approach, you are deciding for yourselves what type you want to lead, what type of future you want to create. Most importantly, however, you will be focused in the now moment when you are allowing yourself to appreciate something, or when you are making light and bringing light to an otherwise dark scenario.
We encourage you to find that which is worth celebrating and appreciating in your lives, and we want you to recognize that every moment has some kind of beauty within it. And every moment that you are present and grounded in your physical bodies is an opportunity to experience more joy, more peace, and more harmony with the world as it is now.
That's the way you ascend to an even better one, not by finding fault with the world as it is and rallying the troops to try to fix it. Enjoy your lives as best you can and enjoy the journey to that which is going to be so much better than what you can even imagine.
We are the Arcturian Council, and we have enjoyed connecting with you."
Get a Private Session with The Arcturian Council (or any of the other beings I channel) at 50% Off – Enter Discount Code: LOVE at Checkout
Do an 8-Day Chakra Cleanse with my Lovely Wife, Maricris Dominique Dela Cruz-Scranton – At a special price for a limited time
Love these quotes? Make a donation here