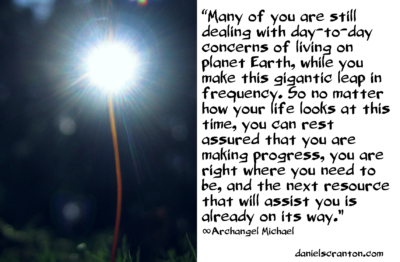 "Welcome. We are here to serve and assist you.
Taking the energies into consideration, you are all doing very well. It is no small task to ascend. It is not something that comes with an instruction manual either. You are learning as you go. You are gathering information from various resources, such as ourselves.
And many of you are still dealing with day-to-day concerns of living on planet Earth, while you make this gigantic leap in frequency. So no matter how your life looks at this time, you can rest assured that you are making progress, you are right where you need to be, and the next resource that will assist you is already on its way.
Having said all of that, we also want to convince you that it is worth it. What you are doing by shifting to the fifth dimension is serving not only yourselves. You are not just making this shift for your own personal benefit. You are assisting all of your other incarnations. You are assisting your brothers and sisters all across this universe.
You are beginning to grasp the enormity of this endeavor. And we are not going to stop congratulating you on every step of this journey, because our job is to support you. Our job is to energetically encourage you, and we also get to observe like proud parents as we watch you learn, expand, and grow.
Put your awareness on the distance that you have already traveled in this one lifetime, and let all of your accomplishments sink in. There is so much more to come, but there is always time to celebrate.
We are Michael. We are infinite. We are Love."
Bonus Channeling From Maricris Dominique Dela Cruz
Get Some Clarity – Book a Private Session
Show Your Gratitude – Make a Donation