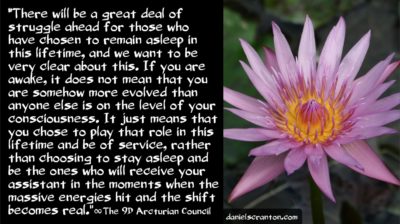 At the Time of The Shift ∞The 9th Dimensional Arcturian Council, Channeled by Daniel Scranton
"Greetings. We are the Arcturian Council. We are pleased to connect with all of you. We are continuing to be amazed and surprised by how resilient you all are in the face of the many challenges that you have taken on for this lifetime. This lifetime has not been a walk in the park for those of you who have decided that you would awaken well before the time of the shift, and we want to acknowledge you for that decision. It is only through the facing of your challenges that you will be able to integrate all aspects of self before being able to help others who are struggling.
There will be a great deal of struggle ahead for those who have chosen to remain asleep in this lifetime, and we want to be very clear about this. If you are awake, it does not mean that you are somehow more evolved than anyone else is on the level of your consciousness. It just means that you chose to play that role in this lifetime and be of service, rather than choosing to stay asleep and be the ones who will receive your assistant in the moments when the massive energies hit and the shift becomes real.
Your experiences build compassion within you, but they also build a type of knowledge that can only be gained through experience. You can talk about spiritual concepts and ideologies until you are blue in the face, but you only really gain the wisdom that you need in order to be of service through the experiences of those challenges. You can only become who you are destined to become in this lifetime by allowing yourself to face challenges that in other lifetimes you would have chosen to ignore.
This astonishing resilience that you have all shown as the awakened ones on planet Earth will of course also help you to have an easier time when the shift is upon you. It will not be the experience of being hit by a ton of bricks. It will be more of a gentle and wonderful experience of allowing the higher frequency energies in.
What you are also doing at this time is practicing that experience, and we are so appreciative for those of you who have opened yourselves up to receive, because it is through your willingness to feel and through your willingness to ground higher frequency energies that we can be more of service to you.
We are the Arcturian Council, and we have enjoyed connecting with you."
Light Language Master Class – Register Here
Listen to the replay of my episode on the Beyond the Ordinary Telesummit podcast &/or sign up for the Making Contact with E.T.s course
Purchase my NEW book on amazon, or the ebook from me – Channeled Wisdom from Higher Dimensional Beings, Volume 2 here
Watch the Video Here – I'm in It!
Love these quotes? Make a donation here