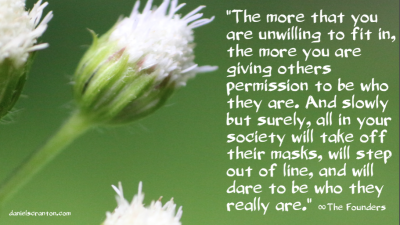 "Blessings.
It is not the primary function of a society to create norms for which everyone can hope to live up to. The true function of a society is to embrace all of its elements. So if you do not fit in to your community, then you are giving others the opportunity to see the strength that is inherent in a diverse culture.
Being like everyone else may allow you to live in comfort, and it may prevent you from experiencing raised eyebrows and dirty looks. But when you are not who you really are, you are in no way serving the greater good. There is no bigger role for you to play than the role of being yourself, and anyone who cannot see your value probably does not see their own either.
There is always room for that which is unusual in every society. Now, not everyone in that society will recognize the value in your uniqueness. But the more that you are unwilling to fit in, the more you are giving others permission to be who they are.
And slowly but surely, all in your society will take off their masks, will step out of line, and will dare to be who they really are. Be different without being defiant or rebellious, and you will not create the need for anyone to push against you. Be different and love yourself unconditionally, and you will find that others will do the same.
We are The Founders. We are the keepers of the flame."