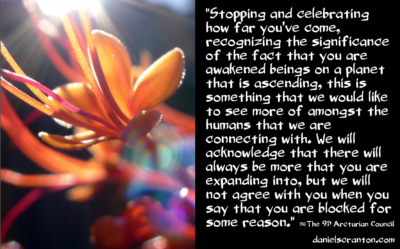 "Greetings. We are the Arcturian Council. We are pleased to connect with all of you.
We have the perspective on your progress that we would love for you to share with us. We would love for all of you to be able to see how far along you are as individuals and as a collective. And yet, sometimes it is hard for you to acknowledge yourselves. We feel that the critical mind will often get in the way of your ability to celebrate how far you've come as individuals, because you tend to focus on what you do not have and what you have not become.
It is nice to have goals. It is nice to have accomplishments that you are reaching for, and they certainly do keep you going. They certainly do keep the energy flowing to you and through you. And so it is a very good thing that you are focused on what it is you want to have in terms of skills, gifts, and abilities. And it is also wonderful that you want to be of service and achieve inner peace, and to create the reality that you want to create.
But stopping and celebrating how far you've come, recognizing the significance of the fact that you are awakened beings on a planet that is ascending, this is something that we would like to see more of amongst the humans that we are connecting with. We will acknowledge that there will always be more that you are expanding into, but we will not agree with you when you say that you are blocked for some reason.
We will not agree with you when you assume that you must be doing something wrong to not be further along by now, to not have solved all of your problems and all of the world's problems. If there is something in front of you that is yet to be achieved, it is there for the purpose of keeping you focused and drawing more of that high frequency love and light through you.
You do need to find time in your day to sit, relax, and look how far you've come. Appreciate the person that you are right now, and see the truth about yourselves. You are all doing wonderfully well, and the truth is you take most of your gifts for granted, rather than celebrating that which you have already become, and so we are initiating the celebration for you.
We are the Arcturian Council, and we have enjoyed connecting with you."
Get a Private Session with The Arcturian Council (or any of the other beings I channel) for 50% Off. Enter Discount Code LOVE at Checkout
Purchase The Arcturian Council's book, Ascension: The Shift to the Fifth Dimension, on amazon here
Love these quotes? Make a donation here