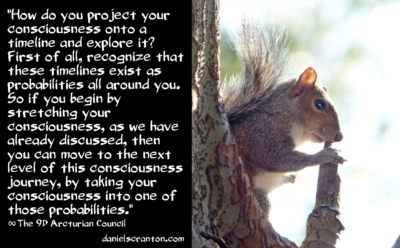 "Greetings. We are the Arcturian Council. We are pleased to connect with all of you.
You have an ability within you to project your consciousness to a timeline that you want to investigate before bringing your physical self to it. You are doing this without realizing that you are doing it, but now is the time for you to begin to do it consciously. You want to be in control of which timeline you are choosing, and you are capable of making that decision for yourselves consciously.
Your higher selves and your oversouls know this now. So you are going to be encouraged to project your consciousness onto several different timelines to investigate for yourselves what lies ahead on those particular timelines. More importantly you are going to be able to tell by how they feel whether you want to align with them or not.
Now the data that you bring back with you after each one of these projections can and will be used to create new timelines, because that is what you are here to do. You are not here to just choose from the options available to you. You are also here to take from your experiences that which pleases you and excites you, and then you are to create new experiences, new opportunities, and of course, new timelines. You are doing this for everyone, as each new timeline is available to all of you.
So how do you do it consciously, then? How do you project your consciousness onto a timeline and explore it? First of all, recognize that these timelines exist as probabilities all around you. So if you begin by stretching your consciousness, as we have already discussed, then you can move to the next level of this consciousness journey, by taking your consciousness into one of those probabilities.
See them as portals that exist all around you, portals that you can travel down, get a glimpse of what they contain, and then come back from. This is the new way that you create your reality. Choose the timeline whose vibration you want to experience most of the time, and know that you will continue to have opportunities to choose again and again and again.
We are the Arcturian Council, and we have enjoyed connecting with you."
Register for a Soulshop on Wealth Consciousness with Maricris Dominique Dela Cruz-Scranton
Love these quotes? Make a donation here