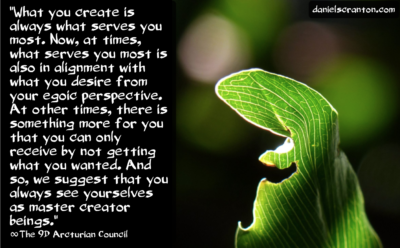 "Greetings. We are the Arcturian Council. We are pleased to connect with all of you.
In the creating of any circumstance that you are living, you take into consideration everything that you can possibly take into consideration. You are thorough when you consider what it is that you actually want to create, but there is always more to the story than what you want.
And sometimes your desires can cloud your vision. Sometimes you can find yourself desiring something that actually does not serve you, and that is because you cannot see the bigger picture. You cannot see all of the angles from your vantage point. And therefore, at times, you will call into question your abilities as creator beings, or you will question whether you actually do create your reality.
What you create is always what serves you most. Now, at times, what serves you most is also in alignment with what you desire from your egoic perspective. At other times, there is something more for you that you can only receive by not getting what you wanted. And so, we suggest that you always see yourselves as master creator beings, and we also suggest that you look around for what it is about your current creation that you can now see is serving you better than what you originally desired.
Your growth is inevitable. You are expanding, and you are becoming every single day. But there are circumstances that will accelerate that growth, and those are always the circumstances that you will create.
And this is so because your primary creation is always you. You are the big prize, and when you look within yourself, and you acknowledge that, well then you can see the bigger picture. Then you can see why you have created what you have created for yourself and why you have not created certain conditions and circumstances that you once desired. Make peace with all of your creations, and know that everything serves your greatest and highest good.
We are the Arcturian Council, and we have enjoyed connecting with you."
Get a Love Letter from Your Divine Team, Higher Self, and Soul – And Find Out What's in Store for You in 2018 – Channeled by Maricris Dominique Dela Cruz-Scranton
Love these quotes? Make a donation here