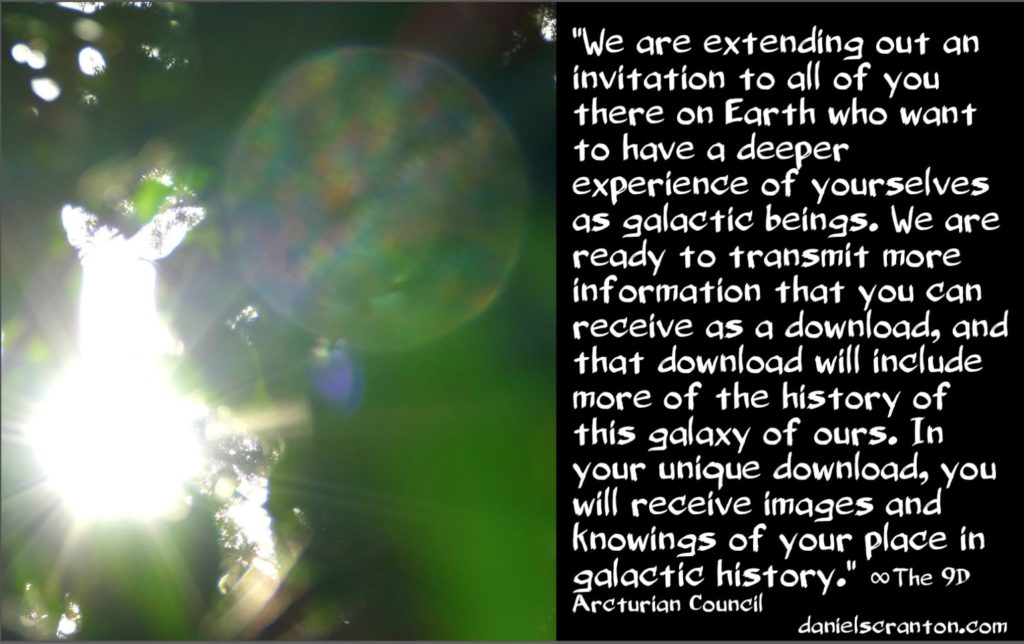 Downloading Your Galactic History ∞The 9D Arcturian Council
"Greetings. We are the Arcturian Council. We are pleased to connect with all of you.
We are extending out an invitation to all of you there on Earth who want to have a deeper experience of yourselves as galactic beings. We are ready to transmit more information that you can receive as a download, and that download will include more of the history of this galaxy of ours. In your unique download, you will receive images and knowings of your place in galactic history. If you want to know what part you've played in bringing peace during the Orion Wars, then this is the download for you. If you want to know what healing modalities you created as a Pleiadian, then this is the download for you.
All you need to do is agree to receive the download, and then be patient. It might not come right away, and it certainly might not come in the way that you expect it to. But a good time to ask for this download to come is right before you are falling asleep. Now, at times, you will receive a download in your energy field, but you won't get the details grounded into your consciousness right away. We are telling you this because we want you to know that it might take a while before you are able to translate the download into something that makes sense to you.
Some of the images you see, or the feelings that you feel, might be too intense for you given where you are at this time in your life, but you can still say 'yes' to receiving the download. We want you to understand where you come from and the history of this galaxy because of the truth that you will be experiencing open contact with extra-terrestrials in this lifetime. That is to say, most of you who are receiving this transmission fall into that category. There will be some who will have a death experience, but we know that those of you who are awake will want to come right back and experience the shift as an infant or a toddler.
So it does hold true for all of you that there will come a time in your lives on Earth where you will experience this full, open contact, and it will behoove you to have already experienced some of your personal history and some of the collective history of what has happened prior to your series of Earthly incarnations, which of course you are now in. There are many stories out there of course about the history of this galaxy, but no one else's account will ever compare to your experience of your own memories. And that's what this download we are offering is really all about.
We are the Arcturian Council, and we have enjoyed connecting with you."
LAST DAY – Get a Private Session with The Arcturian Council (or any of the other beings I channel) for 50% Off. Enter Discount Code LOVE at Checkout
Purchase my NEW book on amazon, or the ebook from me – Channeled Wisdom from Higher Dimensional Beings, Volume 2 here
Watch the Video Here – I'm in It!
Love these quotes? Make a donation here