Description
This Spiritual Business Mega Course is 9 Classes/18 Hours – All on Zoom & Includes a Private Facebook Group
Starting and running a spiritually-oriented business. It may seem like a daunting task to you right now, whether it's based on your channeling, healing practice, or psychic abilities. You might want to be a spiritual life coach, a woman's empowerment coach, or a lifestyle coach. Whatever it is you want to do with your spiritual gifts, the steps to becoming successful in business at it are pretty much the same. But then again, you might not even know what type of business you want to start, how much you would need to start it money-wise, and how much support you'll need once you do start it. That's where I can help. I haven't just started a successful spiritual business, but I've also started a successful non-spiritually-oriented business. So one thing I do know is how to succeed in business and what it takes to run them.
My business has become more financially successful than I ever dared to dream it would become, and I can show the ropes and tell you exactly what I did to start it and grow it. And no, my help doesn't involve you spending thousands on Facebook ads, google ads, or any other kind of ads. I ran one Facebook ad for like $50, and that was the end of that. So much can be done with so little these days. The Internet, social media, podcasts, YouTube, and word of mouth will do most of the marketing for you.
Watch me Talk About the Course in This Video: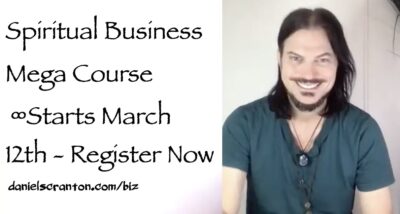 What do you get in this Spiritual Business Mega Course?
Mostly you get me and all of my various experiences a spiritual entrepreneur. I will work with each course participant on their individual business, and I'll set up a private Facebook group so you can help and support each other. The topics I'll be covering over the nine 2-hour class sessions are:
Which Spiritual Business is Right for You & Why?
Developing Your Gifts & Offering Your Services
Working with Your Clients Online & In-Person
Marketing Your Business on Social Media & YouTube
Growing Your Business – Diversify
Podcasts, Telesummits & Collaborations
Getting Help & Self-Publishing
Creating Content, Classes & Courses
Finding a Balance Between Your Business & Your Gifts
When Will We Meet on Zoom?
Sunday, March 12th at 12PM Pacific Time/3PM Eastern Time
Wednesday, April 5th at 1PM Pacific Time/4PM Eastern Time
Tuesday, May 16th at 1PM Pacific Time/4PM Eastern Time
Thursday, June 8th at 1PM Pacific Time/4PM Eastern Time
Tuesday, July 18th at 1PM Pacific Time/4PM Eastern Time
Thursday, August 10th at 1PM Pacific Time/4PM Eastern Time
Thursday, September 7th at 1PM Pacific Time/4PM Eastern Time
Tuesday, October 17th at 1PM Pacific Time/4PM Eastern Time
Thursday, November 9th at 12PM Pacific Time/3PM Eastern Time