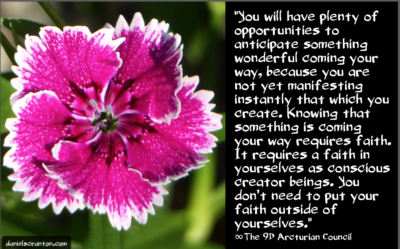 "Greetings. We are the Arcturian Council. We are pleased to connect with all of you.
Waiting for something to happen does not have to be an exercise in testing your patience. Waiting for something to happen can be an exciting experience of anticipation for what you know is coming. When you decide that something is absolutely coming your way, then you don't have to spend a moment of your time worrying or wondering, and you certainly don't need to try to make it happen.
You are the ones deciding how you experience every moment of your lives. So when there is something in your life that is missing, by your standards, see it as an opportunity. See it as an opportunity for you to feel into it with great eagerness. Allow yourselves to fine-tune that which is coming your way, that which you have already created.
You will have plenty of opportunities to anticipate something wonderful coming your way, because you are not yet manifesting instantly that which you create. Knowing that something is coming your way requires faith. It requires a faith in yourselves as conscious creator beings. You don't need to put your faith outside of yourselves.
All you need to do is understand that the creation that you desire is inevitable and that you are the one who is determining how the path to it feels. You are the one who is calling it in, and you get to decide precisely how you do that. We suggest that you feel for that which is coming your way, and put yourselves in an open and receptive state.
We suggest that your journey of anticipation is one filled with opportunities for joy. You give yourselves the experience of the absence of your desire because you wanted to have the experience of eagerness, excitement and anticipation, so don't deny yourselves those experiences. They are wonderful, and they are yours for the taking.
We are the Arcturian Council, and we have enjoyed connecting with you."
Love These Quotes? Buy my new eBook – it contains 240 of them!
Or get the paperback version here