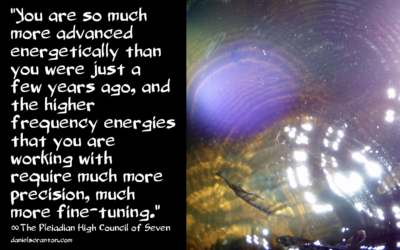 "We are the Pleiadian High Council of Seven, and we are pleased to offer you our words of wisdom.
If you are suspecting that something is amiss in your vibration, if you are in the least bit off-kilter, now is the time to for you to do something about it. Now is not the time for you to put off what you can address in the now moment. You are so much more advanced energetically than you were just a few years ago, and the higher frequency energies that you are working with require much more precision, much more fine-tuning.
And that is why it is necessary for you to pay close attention to what is going on with you. That is why it is to your benefit to address everything that comes up vibrationally and to put everything else that you feel that you need to do on hold until you address that which is going on with you. Now, when we say address it, what we mean is that it requires your attention.
You simply need to focus on what it is that's coming up so that you can release it. It will naturally become less of an issue when you give it your full attention. You don't need to battle it. You don't need to transform it. And in fact, neither of those approaches work. So whatever it is that you are feeling vibrationally needs to be allowed to be exactly what it is, and you need to allow yourself to experience it exactly as it is.
And so when you recognize that every experience that you are having adds to who and what you are, then you can accept whatever is occurring and see it as serving you. Then you don't have to avoid anything. You don't have to fight anything. You don't have to resist anything, and that makes life much easier on you.
That is truly how you go with the flow. You allow yourself to be where you are. You allow your conditions to be what they are, and you allow yourself to feel everything that you become aware of. You see it as something that you have invited to your space. Then it is possible for you to live unconditionally in this world.
And that is when you experience yourselves as powerful beings. And when you tap into that power, you tap in to your creative abilities, you ability to create your reality. It has never been stronger than what it is now. And that is why we are encouraging you to pay very close attention to what you are vibrating. because you are going to create with that vibration at a much faster pace than you ever have before.
We are the Pleiadian High Council of Seven, and we are very fond of all of you. That is all."
Get Some Clarity – Book a Private Session
Show Your Gratitude – Make a Donation