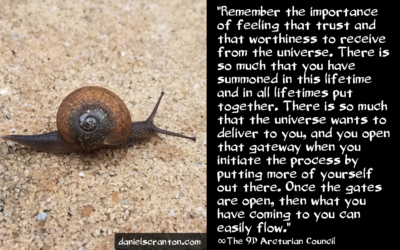 "Greetings. We are the Arcturian Council. We are pleased to connect with all of you.
We have discovered that the best way for us to give you what you need is to offer it to you freely and without any need of anything from you. One of the reasons why we take this approach is because there isn't anything that we need. However, we still receive from the universe as a result of the energy that we have put out.
This practice of giving without the need for compensation is one that you really want to start practicing. Because as you give freely, you put yourselves in a position to also receive without needing to compensate anyone. Your world has been using the direct exchange system because of a lack of trust. If you don't trust that everything will come back to you that you put out, then you feel the need to receive something right away. You feel the need for a guarantee, a contract, something enforceable by law.
And the less you trust in the universe to bring you an equivalent to what you put out, the less you receive. Therefore, don't wait for someone to offer you a job, and don't wait until you have your business all set up with the perfect business plan in place. Don't wait for anything or anyone to start giving. And when you give, remember also to receive.
Remember the importance of feeling that trust and that worthiness to receive from the universe. There is so much that you have summoned in this lifetime and in all lifetimes put together. There is so much that the universe wants to deliver to you, and you open that gateway when you initiate the process by putting more of yourself out there. Once the gates are open, then what you have coming to you can easily flow.
We are the Arcturian Council, and we have enjoyed connecting with you."
Love these quotes? Make a donation here