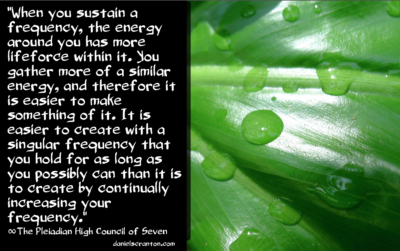 "We are the Pleiadian High Council of Seven, and we are pleased to offer you our words of wisdom.
Harmonizing with a frequency takes you to a very interesting place in your creative process. You can either continue to play in that frequency state, or you can build upon it. Either way, you are in the act of creation as you harmonize with a particular frequency.
When you sustain a frequency, the energy around you has more lifeforce within it. You gather more of a similar energy, and therefore it is easier to make something of it. It is easier to create with a singular frequency that you hold for as long as you possibly can than it is to create by continually increasing your frequency or shifting from one frequency to another.
There is a momentum that builds when you maintain a particular frequency, and that momentum solidifies the energy. The solidification creates. It puts you in alignment with a particular reality, and then from that new place that you find yourself in, you can create anew. You can create something different, something that you've never experienced before.
So we suggest that you start with one frequency. Let us say that you want to create with the frequency of joy. Holding the frequency of joy for as long as you can is not complicated or complex, but it can be challenging. You tend to want to move to another frequency, or to continue to increase the frequency of the joy that you are feeling.
But if you can sustain it, if you can maintain that frequency, and you can feel the energy building and the momentum that is created, you can give yourself a visceral experience of the creative process. And that will build even more momentum as you see the evidence of what you have done. And as you create in joy and then experience that creation, you harmonize with yourself as a creator being, and that brings you closer to the frequency of Source.
We are the Pleiadian High Council of Seven, and we are very fond of all of you. That is all."
Get Some Clarity – Book a Private Session
Show Your Gratitude – Make a Donation