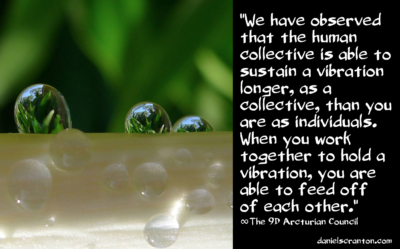 "Greetings. We are the Arcturian Council. We are pleased to connect with all of you.
We have observed that the human collective is able to sustain a vibration longer, as a collective, than you are as individuals. When you work together to hold a vibration, you are able to feed off of each other.
When you are working alone, it is harder for you to maintain the vibration that you seek to hold. One of the reasons for this is that with other people holding the vibration with you, you have their physical bodies there emanating the same vibration. You become like a tuning fork, and this collective energy of course has a bigger impact on the entire universe. So what is reflected back to you is bigger than if you were working by yourself to maintain a certain frequency.
Now, we are always encouraging you to pay attention to your own vibration, your own frequency, and we will continue to do so. You certainly benefit from practicing holding a vibration for yourself, by yourself, and to create something unique that is yours and yours alone to experience. We just want you to recognize that you have support in the physical realm, whether you realize it or not.
Something that we hear from many of you when we connect with you is that you feel isolated and alone. You feel that there is no one around you in your community that is on the same wavelength as you. This is one of the reasons you have the Internet to connect you. You can find people in other parts of the world that you resonate with, and you can connect with those people and work together on holding a higher vibration for the whole of humanity and for a specific cause.
Now the more people that you invite to join you in this endeavor, the longer you'll be able to hold that vibration. You don't need close proximity in order to feel the effects of the vibration that someone else is holding. You just need to be tuned to that person, and you know that you can do this because you've been doing it. You've been reaching out to one another by telephone for quite some time, and now you have many other ways of reaching out to one another, connecting, feeling the other's vibration, and offering that vibration with a purpose.
We want you to know how powerful you are as individuals as well. So again, do not mistake this as us saying that you are only powerful when you are connecting with others and holding a vibration. We've just noticed that it's easier for you to hold that vibration for a longer period of time. So we are encouraging you to do just that.
We are the Arcturian Council, and we have enjoyed connecting with you."
Get Two Private Sessions with Maricris Dominique Dela Cruz-Scranton for 67% Off:
Love these quotes? Make a donation here