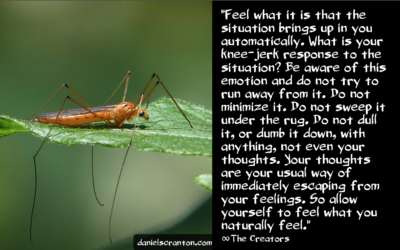 "You have been the creators of your experience all along. What you are waking up to is the fact that it has always been you, it continues to be you, and now you have the tools necessary to create consciously what you would like to experience. If you are experiencing something that is other than what you would prefer, you first must acknowledge that this is your creation. This is a very important step. Because if you maintain that someone else or some group is doing this to you without your permission, then you are trapped in a victim mentality, and that will keep you in that state of being, and you will continue to create situations that appear as if you are being victimized.
So instead, you would like to take responsibility for what is in front of you as your creation. Second, you would feel what it is that the situation brings up in you automatically. What is your knee-jerk response to the situation? Be aware of this emotion and do not try to run away from it. Do not minimize it. Do not sweep it under the rug. Do not dull it, or dumb it down, with anything, not even your thoughts. Your thoughts are your usual way of immediately escaping from your feelings. So allow yourself to feel what you naturally feel in this situation.
Next step: breathe. Next step: decide what it is you wish to feel in the moment. So here is where you begin to access a frequency state. A frequency state can be very similar to an emotion in that you give it the same name that you give your emotions, that you have been giving your emotions. But you will feel a frequency state as more of a vibration, as more of a sensing. It is a lighter version of an emotion, and you will hold that frequency. You will breathe it in. You will breathe it out.
And then you will realize that you have done your work. And you can do this from wherever you stand. Nothing has to be happening in order for you to take note of where it is you are in any given moment and run this process. So, we appreciate the work that you are doing, and we look forward to connecting with all of you once again."
Get a Private Session with The Arcturian Council (or any of the other beings I channel) for 50% Off. Enter Discount Code LOVE at Checkout
Get Two Private Sessions with Maricris Dominique Dela Cruz-Scranton for 67% Off:
Love these quotes? Make a donation here