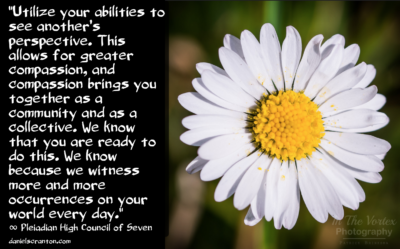 "We are the Pleiadian High Council of Seven, and we are pleased to offer you our words of wisdom.
This is the moment that you have been waiting for as a collective. This is the defining moment for humanity. What we are talking about here is the opportunity that is before you to come together in spite of your differences and live harmoniously, versus giving in to your desires to be right and to push your personal agendas.
When you see yourselves as a collective, when you see yourselves as all belonging to the same one purpose, you are powerful. Your powers of deliberate creation increase exponentially when you work together, you harmonize, and you benefit from each other's strengths. When you see the opportunity to collaborate with another, take it.
Utilize your abilities to see another's perspective. This allows for greater compassion, and compassion brings you together as a community and as a collective. We know that you are ready to do this. We know because we witness more and more occurrences on your world every day.
Your defining moment is going to come in a personal conflict. You are going to give yourself an opportunity to forgive, to see past your petty differences, such as political affiliations. You are going to find yourself in a situation where the choice that you make might be the challenging one. You can call it a test if you like, but we see it as an opportunity, an opportunity to decide how you want to move forward in your shift.
We are here supporting you in making the decision that benefits all, rather than a decision that benefits one, or a few. See the coming together of humanity as one giant love fest. See it as something you will enjoy, and it will be. And be the pioneers that you always intended to be in this lifetime by extending the olive branch, by putting aside differences, and by operating as a human collective.
We are the Pleiadian High Council of Seven, and we are very fond of all of you. That is all."
Get Some Clarity – Book a Private Session
Show Your Gratitude – Make a Donation