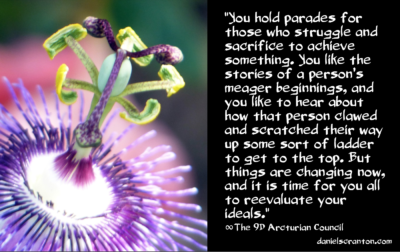 "Greetings. We are the Arcturian Council. We are pleased to connect with all of you.
It is the effort that you put into what you do that generally gives you the feeling that you have accomplished something. The more effort you put in, the more you feel responsible for the achievement, and therefore, the better you feel about it. People who breeze through life effortlessly are rarely celebrated on planet Earth.
You hold parades for those who struggle and sacrifice to achieve something. You like the stories of a person's meager beginnings, and you like to hear about how that person clawed and scratched their way up some sort of ladder to get to the top. But things are changing now, and it is time for you all to reevaluate your ideals.
Because you have moved into a feminine cycle, this will become the era of receiving. There is nothing to be gained by struggle, and no amount of effort will ever be able to match a person's offering of a high vibration. Nothing that you could ever do could match the energy that you can download in an instant of letting go, surrendering, and opening yourselves up.
The time of the Divine Feminine is here, and it's time to celebrate those who are masterful at receiving from the higher realms that which is always being offered to you. You still get to maintain your Divine Masculine side as well, but that side of yourselves is not going to be taking nearly as much action. The actions you will take will be much more fruitful and with far less effort.
That is true power. The integration of the Divine Feminine with the Divine Masculine will result in becoming the creator beings that you always have been but have yet to experience fully.
We are the Arcturian Council, and we have enjoyed connecting with you."
Get a Private Session with The Arcturian Council (or any of the other beings I channel) for 50% Off – Enter Discount Code LOVE at Checkout
Get a 45 Minute Private Session with Maricris Dominique Dela Cruz-Scranton at a HUGE Discount
Love these quotes? Make a donation here