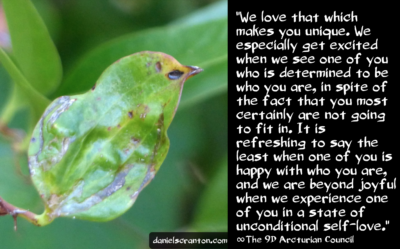 "Greetings. We are the Arcturian Council. We are pleased to connect with all of you.
We have been discovering the eccentricities that exist within humankind, and we find them quite endearing. We find the things that you are ashamed of to be that which makes you most lovable. We wish that we could give you our perspective, so that you could release your feelings of shame, your feelings of being unworthy. We wish that we could just help you somehow get over the idea of 'fitting in.'
We love that which makes you unique. We especially get excited when we see one of you who is determined to be who you are, in spite of the fact that you most certainly are not going to fit in. It is refreshing to say the least when one of you is happy with who you are, and we are beyond joyful when we experience one of you in a state of unconditional self-love.
If you can, in this moment, release something that you feel ashamed of, you could go so far into a higher frequency that you would likely see the effects on your life very quickly. If you could let go of the need to fit in and be who you really are, you could easily find yourself in the job that you want, or in the relationship that you desire.
Life would be so much easier for you if you could just let go, if you could just remove the self-imposed shackles. And we know that we can help you by continuing to love you when you are not loving yourselves. Again, nothing brings us more joy when we see when one of you loving yourselves, but we also take quite a bit of joy in loving you when you're not.
Now, you are less likely to receive that type of response from one of your fellow humans, but that is meant to serve you. When someone reflects back to you how you feel about yourself, that person is doing you a favor. Now of course, the person won't know that. He or she is dealing with their own stuff, and that is why they are putting you down in some way. But it is helpful to know, it is helpful to have that reflection so that you can make the course correction, so that you can join us in loving you unconditionally, and so that you can live the lives that you were always meant to live.
We are the Arcturian Council, and we have enjoyed connecting with you."
Get Two Private Sessions with Maricris Dominique Dela Cruz-Scranton for 67% Off
Love these quotes? Make a donation here