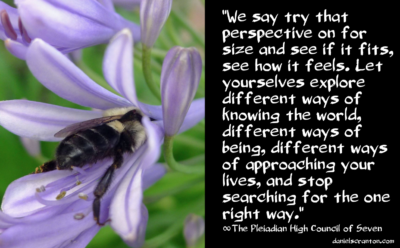 "We are the Pleiadian High Council of Seven, and we are pleased to offer you our words of wisdom.
We are not here to teach you or to tell you how to live your lives. We are here to share with you a perspective and to give you the tools necessary to teach yourselves how to live your own lives. There is a great deal of wisdom that is shared to those of you who are listening, and it comes from many different sources.
Some of what you hear from one source may contradict what you hear from another source, and that may leave you questioning which one is correct. Which is the correct perspective? And we say to you that both perspectives are correct. One is not more right than the other. Both can exist in harmony with each other.
And when you know this and understand this, then it is possible for you to coexist in harmony with another person who does not share your perspective. So even amongst the most enlightened being, there is the possibility for something to be made into a type of dogma. And we invite you all to be much more flexible with your beliefs and much more flexible with what it is you are willing to accept as true.
We say try that perspective on for size and see if it fits, see how it feels. Let yourselves explore different ways of knowing the world, different ways of being, different ways of approaching your lives, and stop searching for the one right way.
As long as you do, you will be questioning whether or not the way that you have chosen is the right one. There will always be some lingering doubt. But if instead you recognize that every perspective, every belief, every philosophy is meant to be taken on temporarily for an experience, then it won't matter. And it certainly won't matter what someone else has chosen to take on, temporarily, for him or herself.
You can live and let live. You can allow. And as you do, you allow yourself to experiment and to play, and to try on different outfits, because there's not just one way to do anything. And there certainly isn't just one perspective on this grand and complex universe in which we all dwell.
We are the Pleiadian High Council of Seven, and we are very fond of all of you. That is all."
Get Some Clarity – Book a Private Session
Spread Your Abundance Around – Make a Donation