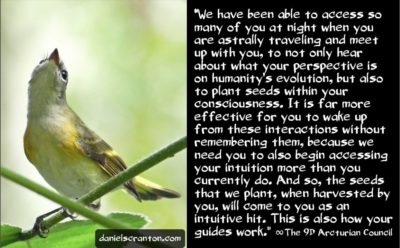 Planting Seeds During Your Astral Travels ∞The 9D Arcturian Council, Channeled by Daniel Scranton
"Greetings. We are the Arcturian Council. We are pleased to connect with all of you.
We are extremely excited to experience what it will be like to have the front seats that we do for this next chapter in humanity's evolution. We are always pleased to see you progressing so nicely, and we are also feeling quite blessed to be a part of your journey. We love to watch you grow and expand, and we so enjoy feeling that we are a part of your evolution of consciousness.
We have been able to access so many of you at night when you are astrally traveling and meet up with you, to not only hear about what your perspective is on humanity's evolution, but also to plant seeds within your consciousness. It is far more effective for you to wake up from these interactions without remembering them, because we need you to also begin accessing your intuition more than you currently do. And so, the seeds that we plant, when harvested by you, will come to you as an intuitive hit. This is also how your guides work. This is why your guides aren't constantly yelling at you or tapping on your shoulders to get your attention.
We all recognize that the subtle approach is the better approach because we are getting you to pay closer attention to what's going on within you. The ultimate goal is always empowerment. We are not puppeteers, and you are not puppets. We are your friends. We are your colleagues, and we are your co-creators, and we certainly are not alone in these endeavors. We want you to feel for these intuitive hits and impulses to move in a certain direction. We will continue to drop hints whenever we can without coming right out and telling you what to do or what to think.
We are excited because you have the free will to decide, and we are not interested in interfering in your evolutionary progress, which is quite natural, and which would be happening with or without our participation. We are just offering the Arcturian perspective from the ninth dimension. You will get different perspectives from different beings coming through different channelers, and we enjoy those perspectives and watching you choose from among them. We know many of you wonder whether you meet up with us at night, and those of you who are wondering certainly are because your desire is strong enough and because we are looking for anyone and everyone who is willing to accept the seeds that we so joyously want to plant within your consciousness.
We are the Arcturian Council, and we have enjoyed connecting with you."
Light Language Master Class – Register Here
Listen to the replay of my episode on the Beyond the Ordinary Telesummit podcast &/or sign up for the Making Contact with E.T.s course
Purchase my NEW book on amazon, or the ebook from me – Channeled Wisdom from Higher Dimensional Beings, Volume 2 here
Watch the Video Here – I'm in It!
Love these quotes? Make a donation here