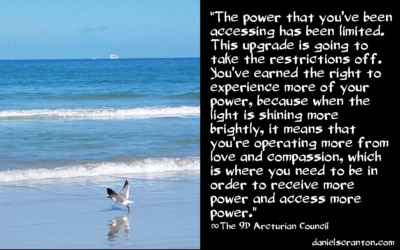 "Greetings. We are the Arcturian Council. We are pleased to connect with all of you.
We have been waiting for the best possible time to give you the following piece of information, and now is the perfect time, as far as we are concerned. Your light is shining brighter than it ever has before. We are talking to you as individuals and as a collective. You have a collective energy that also has an aura, but you as individuals are shining so brightly that many of the higher frequency extra-terrestrials in physical bodies are taking notice.
They are even more excited than we are because as they see those lights shining, they recognize your readiness for more contact with them. As a collective, the fact that your light is shining more brightly means that you're ready for a collective upgrade. You are ready to receive more, and that includes everyone, not just those of you who are awakened, not just those of you who are listening to or reading this message.
We are able to give you some information about that collective upgrade. It is time that all of you began to feel the power that you possess as individuals and as a collective. And so your solar plexus chakras are the parts that are getting upgraded. You access power from within you when you feel powerful, when you feel effective.
But the power that you've been accessing has been limited. This upgrade is going to take the restrictions off. You've earned the right to experience more of your power, because when the light is shining more brightly, it means that you're operating more from love and compassion, which is where you need to be in order to receive more power and access more power.
It's also where you need to be to make those connections that you want to make to your E.T. friends. So we are very happy to give you this update, and we want you to know that we have the utmost faith in you. We know that you will use your power wisely, and we know that you will be able to handle the additional contact from the E.T.s that are taking notice. We know this because we know how far you've come.
We are the Arcturian Council, and we have enjoyed connecting with you."
Love these quotes? Make a donation here