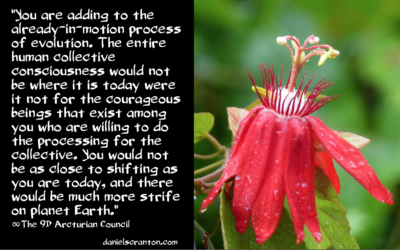 "Greetings. We are the Arcturian Council. We are pleased to connect with all of you.
You have the capacity within you to feel what someone else is feeling. You have the ability to empathize with another. You also have the ability to take on something for entire human collective, to feel the emotions that others in the collective are unwilling or unable to feel. And by processing those emotions that others in the collective are avoiding or suppressing, you are helping to move the collective along.
You are adding to the already-in-motion process of evolution. The entire human collective consciousness would not be where it is today were it not for the courageous beings that exist among you who are willing to do the processing for the collective. You would not be as close to shifting as you are today, and there would be much more strife on planet Earth.
So why would you set it up this way? Why should it be possible for some to do the heavy lifting for the rest? You don't all come to an incarnation with the exact same background, and you certainly aren't born into the same circumstances. So those can help do, and those who are unable to help themselves receive the benefit.
It may not seem fair to those of you who are doing this work and processing for the collective, but remember, it's what you signed up for. Some knew that they would be incarnating into families with opulent wealth, and others knew they would be incarnating into abject poverty. It's a decision that you make before you incarnate, and then once you get here, you experience the reality of that life.
Remember that from a certain perspective, one is not better than the other. You are here to let go of those types of judgments. Certainly by feeling as much as you all feel, you have access to more joy, more love, and more compassion. And so, your personal evolution is also accelerated by your willingness to feel that which is a part of the human collective consciousness, that which others have left behind.
We salute those of you who are doing this work, and we want you to know that it will get better and it will get easier. And we are here for you if you need us.
We are the Arcturian Council, and we have enjoyed connecting with you."
Get a Private Session with The Arcturian Council (or any of the other beings I channel) for 50% Off. Enter Discount Code LOVE at Checkout
Love these quotes? Make a donation here